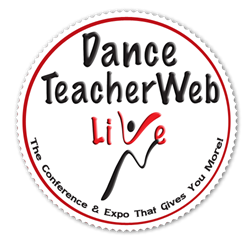 Attendees will go home with more knowledge, improved business practices and class content that will last them for years to come!
Fairfield, CT (PRWEB) April 09, 2014
The dance world will once again come to Las Vegas this summer where many of the leading dance industry professionals are set to take part in the Dance Teacher Web Live Conference & Expo. All attendees will have the opportunity to learn the latest teaching and business techniques and renew their spirits as they join dance educators from around the world for creative inspiration and a stirring celebration of the teacher, the professional and the unique individual.
Faculty scheduled to present are Liz Imperio, who recently completed her work as Artistic Director and Choreographer for the Jennifer Lopez 2013 World Tour, James Whiteside, Principal with American Ballet Theater, Ricky Hinds, Associate Director of "Newsies" on Broadway and Tapper extraordinaire, Aaron Turner runner-up of last season's hit TV show "So You Think You Can Dance" headline an All-Star cast of over 40 dance masters and business leaders.
"We are thrilled to present such a diverse faculty at the event. This is our 5th year and we expect to have well over 500 attendees," says conference co-producer Angela D'Valda Sirico.
The New Conference schedule has just been added to the Conference site and can be viewed at http://www.dtwconference.com/SCHEDULE.html.
Attendees will be treated to four full days and nights of classes, seminars, parties and performances. The expo features the top names in the dance industry such as Costume Gallery, Capezio, International Dance Supplies, Dance Informa, and Motion Software to name a few. "Last year our exhibitors gave away over $5000 in cash and prizes to attendees and we anticipate exceeding that this year," added co-producer Steve Sirico.
The top three features of the Conference are:
1. A unique setting with an all-star cast of Master Teachers presenting material attendees won't find anywhere else.
2. Business classes that are designed to increase revenue and help dance studio owners keep up to date with cutting edge technology.
3. An opportunity to network with dance teachers from around the world.
Other exciting Conference enhancements include Dance Teacher University UNLV Teacher Certification program. Dance Teacher Web and faculty from the University of Nevada Las Vegas have partnered to create a new and comprehensive teacher training program. The curriculum provides a challenging yet easy to grasp dance training for beginner through advanced levels.
"If you are a dance teacher or studio owner, you can't afford to miss this event," adds Angela D'Valda Sirico.
"Attendees will go home with more knowledge, improved business practices and class content that will last them for years to come. Our number one goal is to help dance teachers and studio owners stay at the top of their game!" says Steve Sirico.
The event will be held at the Red Rock Resort in Las Vegas, July 27-30. The Conference has secured a room rate of $115 per night when you ask for the Dance Teacher rate.
To register visit http://www.danceteacherexpo.com or call 855-972-6643.