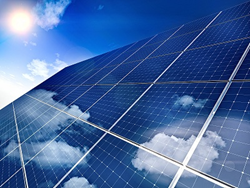 We have managed to make new investors comfortable with the renewable energy asset class without requiring them to dedicate a large amount of resources to the opportunity. Joseph Switzer, SVP
Clearwater, FL (PRWEB) April 02, 2014
Churchill Stateside Group, LLC (CSG), announces the completion of the Churchill Stateside NC Tax Credit Fund II, LLC ("The Fund"), a $7.05 million North Carolina state renewable energy tax credit fund. CSG is a privately owned real estate and energy financial services company and The Fund was placed by its related broker dealer, Churchill Stateside Securities, LLC.
CSG's NC Tax Credit Fund II will be combined with other financing sources to build a 7.11 megawatts of solar energy farm located in Whiteville, North Carolina. This ground-mounted solar farm, commissioned at the end of 2013, will include over 23,000 solar panels and cover approximately 40 acres.
"The closing of this second North Carolina Fund shows our continued efforts in North Carolina and represents CSG's commitment to market leadership in delivering financing solutions to the evolving renewable energy marketplace," said Devin Sanderson, Senior Vice President and Director of Renewable Energy for CSG.
Joseph Switzer, Senior Vice President of Churchill Stateside Securities, LLC, the fully licensed broker-dealer for CSG, said, "Responsible corporations are looking for ways to enhance their carbon emission profile while still meeting all of their internal risk and return hurdles. We have managed to make new investors comfortable with the renewable energy asset class without requiring them to dedicate a large amount of resources to the opportunity. These efforts bring great benefit to our investors, the environment, and the State of North Carolina."
THIS IS NOT AN OFFER OR SOLICITATION TO BUY/SELL SECURITIES. THE MATERIAL PRESENTED IN THIS RELEASE IS FOR INFORMATIONAL PURPOSES ONLY AND SHOULD NOT BE CONSTRUED AS AN OFFER, OR SOLICITATION OF AN OFFER, TO BUY OR SELL SECURITIES WHETHER GENERALLY OR IN ANY STATE OR OTHER JURISDICTION WHERE THE OFFER OR SALE IS NOT PERMITTED
About Churchill Stateside Group
Churchill Stateside Group and its wholly owned affiliates (CSG) serve the affordable housing and renewable energy industries. CSG sponsors tax credit equity investment funds for institutional investors and provides a variety of construction and permanent financing solutions. The company's investor and developer clients benefit from our experienced staff, prominent and proactive senior leadership, and attractive debt and equity platforms. CSG has long-standing and successful investment relationships with numerous corporate investors, pension funds, and insurance companies. The company is also an approved USDA Rural Development and HUD MAP lender. CSG pursues high quality lending and investment opportunities across the nation.