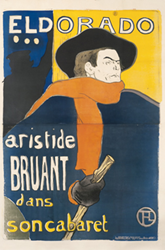 Boston, MA (PRWEB) April 10, 2014
The Exhibition opens on Thursday, May 1 and runs through June 30, 2014. The show is free and open to the public. Gallery hours are Mon. through Sat. 10 a.m. to 6 p.m. and Sun. noon to 6 p.m. The gallery is located at 205 Newbury Street, Boston. Call (617) 375-0076 or visit http://www.internationalposter.com.
The exhibition opens with classics from the 1890s, the lithographic poster's first decade, which is often called the Golden Age of the Poster. It takes its cue from Eldorado, Toulouse–Lautrec's iconic portrait of an imposing Aristide Bruant announcing his performance at his famous Parisian cabaret in 1892. The poet and balladeer was famous for his sharp-tongued musical reviews that shocked and enthralled Parisians. Toulouse-Lautrec only produced 31 posters before his untimely death in 1901, but his pioneering efforts, this one of his earliest, would fuel a poster craze through the decade and forever elevate the poster as an artistic medium.
Another highlight of the show, which looks back to the Gallery's pioneering exhibitions on the Italian poster, are two superb rarities. The first, dating from 1912, is a large format fashion poster by Marcello Dudovich for the pioneering Italian retailer, E & A Mele. The elegant portrait of a Neapolitan beauty in a printed coat and hat makes as imposing an impression as Toulouse-Lautrec's creation. This is joined by Leopoldo Metlicovitz's poster for the 1907 Milan Automobile Show, which shows a race between a car and winged Mercury at dusk. It is one of Italy's most famous posters, and extremely rare.
The next focus of the show is the Twenties and Thirties. A stand-out collectible is the large format Art Deco poster for the first soccer World Cup in Uruguay in 1930, produced by the General Match Company of Montevideo. This highly abstract work shows a goalie reaching for a ball heading for the corner of the net. Another unusual design is a London Underground poster for an extension on the Morden Line in 1926 which uses a clever graphic solution to communicate its message powerfully.
A third section focuses on Mid-Century design. Most interesting is a never before seen life-size maquette, or preparatory painting, by Herbert Leupin for an Object Poster for PKZ, the Swiss men's clothier. It shows an extremely detailed label for the company, with a needle and thread that have just completed the last stitch. It is unknown why this poster was not put into production. Leupin created posters for PKZ in 1939 and 1942, and thought it special enough to retain in his personal archive.
Other highlights include:

Travel posters by leading artists AM Cassandre and Roger Broders,
Skiing and bicycle posters by Maurer, Diggelman, Cardinaux and Roowy
Ocean liner posters such as Odenvinge's moonlit Lusitania poster, circa 1907.
Rarely seen Work Incentive Posters from Mather
Propaganda posters from WWI, WWII and the Soviet Union
Aviation posters from Lazzaro, Lawler and David Klein
Since its opening on Newbury Street in 1994, International Poster Gallery has gained a reputation for its world-class collection of original vintage posters. Owner Jim Lapides has written extensively on posters, and is widely recognized as an expert in the field. International Poster has presented more than 50 innovative exhibitions in the gallery and museums across the country on subjects like Object Posters, Italian, Swiss, Dutch and Soviet posters, ski and travel, AIDS, Mid Century Modern and Herbert Leupin.
"The last two decades have been an incredible journey," Lapides comments. "Although we have witnessed enormous changes – particularly the global explosion of interest in our field and the rise of the internet, our passion for posters remains constant. Original posters continue to prove an important and enduring art form, and our gallery has introduced thousands of collectors small and large to their artistic and historical richness."
In addition to gallery shows and special exhibitions, IPG's award-winning website, http://www.internationalposter.com, offers the largest, most comprehensive on-line collection of vintage advertising posters in the world. Launched in 1998, the site now contains 5,000 images accessible through a powerful search engine.
###
Editor's Note:

Background, photos, slides and digital images on request.
Support for feature development on poster collecting available.
Interviews with gallery owner Jim Lapides are encouraged.
Parking available for media interviews on site.