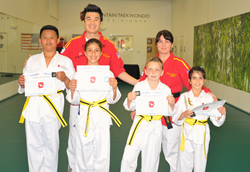 To provide the highest quality martial arts instruction possible.To empower our students with positive life skills.To contribute to a safe and peaceful community.
Mission Viejo, CA (PRWEB) April 02, 2014
As far as personal projects go, Kyu Hyun Seol and Sonya Versluys, the owners of Mountain Taekwondo in Mission Viejo, aimed high. As former Kindergarten teachers, both with a passion for Martial Arts, when they first started talking about what it would mean to open their own Taekwondo School the plan was a logical extension of ideas that had started to take shape a long time ago.
For Seol, who goes by the name "Master Mountain" and has more than 30 years of Taekwondo training and a 6th dan black belt, the opening of the school represents a life time of cultural ties and development of a sport that embodies a truly remarkable way of conducting one's life. "True Martial Arts are founded on non-violent principles. We advocate for balance and harmony in all areas of life," says Seol.
"Having a background in school teaching means that our approach is somewhat different," says Versluys, "while all the physical and emotional aspects of a martial art remain, we find that we are still approaching the learning aspect on a very detailed and individual level--like we would in a regular classroom, with daily meetings and goals for each student."
Mountain Taekwondo's core philosophy circles around their Black Belt Curriculum which was developed after almost two years of planning, consulting, and visiting with mentors and organizations around the country. The curriculum gives clearly defined goals, both short term and long term, for all students no matter what age and ability they are. "While we do see people come in with just a general curiosity about our program, the vast majority of people are looking for a specific skill that would be of value to them in their everyday life," explains Versluys.
One of the most notable of these skills is focus. "We want our students to understand the process behind what we and they do, with very real and tangible evidence so that they can see the value. So when a Mom comes in to see us, for example, and says that her child needs to learn to focus at school, we can describe what focus looks like and how we will practice it. Focus looks like maintaining eye contact with your instructor or target. Focus looks like keeping your body still. Why is this important? Well, focus is going to allow you to learn with greater speed and accuracy in anything that you do."
The biggest reward for partners Seol and Versluys is when they see real changes in their students. "One of the best things that happens a lot actually, is when we hear back from a child's school teacher about how their classroom manner has changed and how much better they are doing in their studies," says Seol, "or when Mom and Dad comment on how family time has really developed into something special."
And now Mountain Taekwondo celebrates its beginning in a Grand Opening event which will also be the day of the school's first black belt promotions. For Versluys, who spent most of 2013 fighting a life threatening illness and had a port from her chest removed just two months before the school opened, this day is especially thrilling as she is testing for her 3rd dan Black Belt. "It's important for our students to see that their teachers are still learning, too, and that we don't give up. When our students understand that we are still dedicated to developing our own character and skills, they begin to understand the value of humility and keeping an open, learning frame of mind no matter what."
Mountain Taekwondo's Grand Opening and Black Belt Testing will be held on Saturday April 5th starting at 10 a.m. After the Black Belt Promotions are completed, a Master Demonstration will be given by professional demonstration team Xplore, Then, friends, family and visitors will be given the opportunity to experience a taste of Korean Food.
The event is open to the public.
Mountain Taekwondo
26012 Marguerite Parkway
Ste.B
Mission Viejo CA 92692