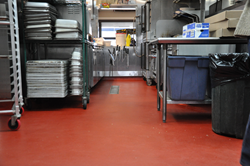 Wall, NJ (PRWEB) April 03, 2014
One of the Jersey Shore's most popular bar and restaurant destinations, Bar Anticipation in Belmar, N.J., was facing structural and surface problems with its kitchen floor. Upon receiving a new urethane mortar system from Garon Products Inc., the floor was completely restored to offer a durable surface that could withstand harsh conditions of a fast-paced eatery.
The bar and restaurant was renovating its existing kitchen, walk-in coolers and walk-in freezer area. The existing floor experienced leaking issues that needed to be fixed. The above- grade subfloor had popping quarry tile embedded with grease and the plywood floors underneath the tile were being eaten away from the daily abuse of hot water and grease/oil penetrating through the tile grout lines.
The challenge was to undertake the renovation and floor installation without shutting down the kitchen.
After the restaurant replaced the rotted wood flooring with 2" thick outdoor marine-grade multiple layer plywood that could support the urethane mortar, a 3/8" thick seamless urethane mortar system [Mortarthane HF]. The top coat provided additional traction so the floor is slip-resistant, while also providing outstanding durability and an improved aesthetic.
A 6" cove was placed around the perimeter of the kitchen with urethane cove mortar [Mortarthane™ Cove Mortar] during a process known as, "bathtubbing." This makes an impervious, bacteria-free surface as well as protection from daily hot wash downs that could potentially penetrate through the sub floor.
The final result was an easy-to-clean flooring system that can withstand hot wash downs, traffic, hot and cold equipment, improved slip resistance, and OSHA compliance.
The Restaurant owner's timeline requirements for the project were met without having to shut down the kitchen and a product was delivered that will continue to keep Bar Anticipation serving up food and drink for years to come.
Watch this video to see how Garon Products successfully repaired the commercial kitchen floor or visit http://www.floorcoatingtv.com/floor-coatings/commercial-kitchen-flooring/.
About Garon Products Inc.
Garon Products Inc. is the leading direct marketer of concrete repair and floor coatings through its catalog "Concrete Floor Solutions". Garon also manufactures specialized floor coatings and concrete resurfacing products for every flooring application. The line includes epoxy, cement urethane and polyaspartic compositions. For more information, visit http://www.garonproducts.com.