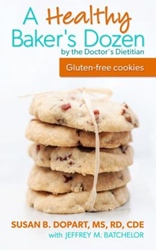 Tested by bakers and cookie connoisseurs – Susan's recipes taste terrific while ticking all the right boxes for good health!
Los Angeles, California (PRWEB) April 03, 2014
Who doesn't want a healthy cookie or treat that won't break the health bank? A Healthy Baker's Dozen by the Doctor's Dietitian(TM) Susan Dopart is where good nutrition meets the sweet tooth!
A new spin on gluten-free baking, registered dietitian and baker Susan Dopart's full-color eBook offers 12 healthy low-sugar treats plus a bonus dog cookie. Her recipes are based on gluten-free, non-GMO flours high in protein and fiber and low in starches. Each cookie packs more fiber and protein than a traditional cookie and has less carbs than a slice of bread!
This recipe book offers a unique and delicious twist on baking gluten-free cookies. Whereas other recipes use substitutions for sugar or fat, Susan uses all real ingredients that don't sacrifice taste. It uses a special gluten-free flour mixture to help not only those with Celiac disease, but also inflammation, cardiovascular disease, diabetes and insulin resistance. Tested by bakers and cookie connoisseurs – Susan's recipes taste terrific while ticking all the right boxes for good health!
The book has easy-to-follow directions; a special section on baking and ingredients, and beautiful photographs throughout. The 13 gluten-free cookie recipes include Chocolate Espresso Pecan Cookies, Easy Almond Delights, Lemon Zesties and more. A Healthy Baker's Dozen presents delicious, gluten-free recipes for those wanting to enjoy a healthy treat without the gluten, extra carbs and sugar of other cookies.
A Healthy Baker's Dozen is available in the Kindle version for $3.99 on Amazon. http://www.amazon.com/Healthy-Bakers-Dozen-Doctors-Dietitian-ebook/dp/B00GZAO910
Susan B. Dopart, MS, RD, CDE, is a health and wellness consultant who has been in private practice for more than 20 years. Susan specializes in child and adult medical nutrition related issues associated with insulin resistance, diabetes and endocrinology, cardiovascular disease and those with inflammatory concerns like arthritis. She receives many of her referrals from physicians.
Before establishing her own practice, Susan worked at UCLA as both a medical and kidney dietitian. She has written and contributed to multiple publications, including The Huffington Post, SELF Magazine, UCLA Medicine, Sports and Cardiovascular Nutritionists SCAN pulse, Men's Health, Diabetes Health and Diabetes Forecast. She is also the author of A Recipe for Life by the Doctor's Dietitian – a nutrition guidebook with advice and healthy recipes, and Healthy You, Healthy Baby: A Mother's Guide to Gestational Diabetes. Her passion is helping her clients find lifestyle solutions for optimal health and well being.
To learn more about Susan Dopart, to see other recipe offerings, or to request a health consultation, go to http://SusanDopart.com/.