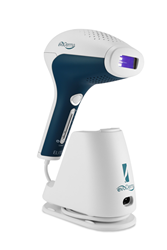 Montreal, QC (PRWEB) April 02, 2014
The ELITE IPL Hair Removal system is a one-of-a-kind beauty tool that incorporates the latest in Intense Pulse Light technology. Known as Advanced Multi-Pulse (AMP), this type of IPL technology delivers faster light pulses that target body hair more thoroughly while being gentle on the skin surface.
ELITE is non-invasive, safe and advantageous for use in the comfort of home and is readily available for online purchase beginning Wednesday, April 2.
Compact and easy to transport, ELITE is suitable for both men and women and is designed to be used anywhere at anytime. Using disposable lamp cartridges, each lamp comes equipped with between 10,000 to 50,000 flashes, depending on the selected intensity levels. This sophisticated device also includes enhanced functions and safety features that serve as indicators, which help provide a smooth and effortless treatment session.
According to evoDerma's founder, "We are continuously working towards creating a practical device for every individual and their needs. We incorporate the latest technology of light pulses for efficient and thorough results every time. With advanced features, ELITE is our most effortless beauty product yet!"
Covering a larger surface area, ELITE is a quick solution to preventing future hair growth. ELITE will be available at http://www.evoderma.com starting on April 2, 2014.
Contact our Customer Care Department at 1-855-386-3376 or support(at)evoderma(dot)com for more information.
About EvoDerma
EvoDerma Inc. strives to provide cutting-edge hair removal and skin care products for use in the privacy and convenience of the home. Its innovative research and development department is continuously working to offer consumers professional-grade aesthetic products for home use. The IPL hair removal devices, evoDerma's flagship products, are a testament to the company's commitment to quality, safety and efficiency.