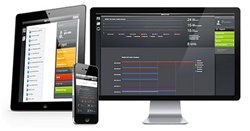 This version of the portal gives users much more flexibility and offers a user-friendly interface that we didn't have with our previous portal.
Dana Point, CA (PRWEB) April 02, 2014
SimpleSignal, the leading cloud-based provider of Unified Communications and Collaboration for business, today announced the release of the SimpleSignal Cloud Portal, an easy-to-use web interface that allows its customers to manage their hosted PBX user and business profiles. The new application provides users with individual, group and admin portal access on any device, browser or operating system and gives them access to more robust features for call control, profile management and reporting.
"We've been working on this for a few months now, and we're excited to have the Cloud Portal ready to launch to our customers," said Michael Sterl, EVP of SimpleSignal. "This version of the portal gives users much more flexibility and offers a user-friendly interface that we didn't have with our previous portal. Having access to the interface from any device is going to make a huge impact on those customers that are operating on a completely mobile platform."
Designed with the individual user in mind, the SimpleSignal Cloud Portal provides all of the features and functionality of the company's previous version, but with an easier to use interface that is fully responsive to any mobile device, web browser or operating system. This gives users the same experience whether on a desktop, tablet or smartphone.
In addition to hosted PBX profile management, the Cloud Portal now also contains call center functionality that improves workflow and business process inside the call center.
Features of Call Center Reporting include:

Self administration with one web application
Modular functionality for customization
Weekly dashboard of call center queues
Custom call center reports for supervisors
Multiple canned reports on call center activity by queue
Raw data for creating custom reports
Call Center Agent reports for group admins
Canned reports for details per agent call activity and last 24 hours summary
"Our customers are going to see continued improvement to the portal over the next few months," said Ujjval Karihaloo, SimpleSignal's CTO. "This is just the beginning of our continued effort to make profile and device management easier for our customers."
For more information on the SimpleSignal Cloud Portal, please visit: http://www.simplesignal.com/cloudportal.php.
About SimpleSignal
SimpleSignal is an enterprise hosted PBX and cloud-based Unified Communications service provider, delivering voice, video, and mobile communications to thousands of satisfied business customers globally. The company provides the most innovative and advanced mobile/video PBX capabilities in the industry, and is one of the first companies ever to extend video PBX telephony over iPads, iPhones, and Android mobile devices that can connect with any brand of video conferencing equipment. For more information, visit http://www.simplesignal.com, check out the company blog at http://www.simplesignal.com/blog, or connect at facebook.com/simplesignal and twitter.com/simplesignal.