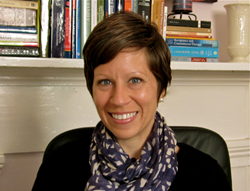 Greensboro, NC (PRWEB) April 17, 2014
The NBCC Foundation, an affiliate of the National Board for Certified Counselors, Inc. (NBCC), recently awarded a 2014 NBCC Foundation military scholarship to Maria Cicio of New Orleans, Louisiana. The military scholarship is awarded to service members, veterans and spouses pursuing a counseling education who commit to serving fellow military personnel, veterans and families upon graduation.
The mission of the NBCC Foundation is to leverage the power of counseling by strategically focusing resources for positive change. The military scholarship was created in 2009 to increase access to counselors for military personnel, veterans and families suffering from a shortage of available mental health professionals. Thirty-five students from across the country applied for the five 2014 military scholarships, and the NBCC Foundation Board of Trustees awarded an additional scholarship due to the high caliber of this year's applicants.
As one of six 2014 military scholarship recipients, Ms. Cicio will receive $5,000 to support her counseling education and facilitate her service to military populations. Ms. Cicio is a graduate of Rutgers University and is pursuing a master's degree in clinical mental health counseling at Loyola University New Orleans. She served seven years with the U.S. Air Force as an electronic warfare officer. Upon graduation, Ms. Cicio plans to continue her service to the military community by working directly with veterans suffering from post-traumatic stress disorder (PTSD) and military sexual trauma.
The NBCC Foundation has also awarded six $5,000 minority scholarships designed to help ensure that the behavioral health needs of all Americans are met, regardless of language or culture, as well as six $5,000 rural scholarships to increase the number of counselors serving rural areas.
The NBCC Foundation plans to continue offering scholarships to increase the number of counselors in the areas where they are needed most. For more information or to make a gift in support of the Foundation's mission, please visit http://www.nbccf.org.
###
About the NBCC Foundation
The NBCC Foundation is an affiliate of the National Board for Certified Counselors (NBCC), based in Greensboro, North Carolina. NBCC is the nation's premier professional certification board devoted to credentialing counselors who meet standards for the general and specialty practices of professional counseling. Currently, there are more than 52,000 National Certified Counselors (NCCs) in the United States and more than 50 countries.