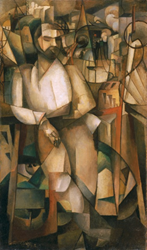 Michael Maglaras...brought the drama of the original show back to life. - The Dartmouth
Ashford, Connecticut (PRWEB) April 02, 2014
217 Films has announced the spring and summer screening schedule for its new documentary on the 1913 Armory Show. The full screening schedule for this film can be viewed at this link: http://two17filmsschedule.blogspot.com.
The next screening of "The Great Confusion: The 1913 Armory Show" will be held Friday, April 11, at the Virginia Museum of Fine Arts in Richmond, Virginia as part of the James River Film Festival. Tickets can be purchased at this link: http://www.vmfa.museum./2014/JamesRiverFilmFestival.aspx.
Upcoming screenings include:
April 11, 2014
6:30pm
Virginia Museum of Fine Arts
James River Film Festival
Richmond, Virginia
April 24, 2014
5:30pm
Special Encore Screening!
New Britain Museum of American Art
New Britain, Connecticut
May 5, 2014
7:00pm
Bryn Mawr Film Institute
Bryn Mawr, Pennsylvania
May 11, 2014
2:00pm
Providence Public Library
Providence, Rhode Island
July 16, 2014
6:30pm
Smithsonian American Art Museum
Washington, D.C.
August 2, 2014
3:00pm
National Gallery of Art
Washington, D.C.
New dates are being added frequently and this film tour will continue through 2014. The September world premiere of this film sold out at the New Britain Museum of American Art and has been screening to standing room only crowds since that time.
The Sacramento Bee called Michael Maglaras a filmmaker of "Bergman-like gravitas." His films have been described as "virtuoso filmmaking" (National Gallery of Art) "alive and fresh" (Art New England) "elegiac and insightful" (Naples Daily News) and "unforgettable" (Journal of American History). David Berona, author of "Wordless Books" has said of "O Brother Man" --"This film is stunning" and Judith Regan of Sirius XM called it "magnificent." A recent review in The Dartmouth said of "The Great Confusion" that "Michael Maglaras...brought the drama of the original show back to life." He has recently been featured in a full-length interview on "Conversations from Penn State" on Public Television.
More About "The Great Confusion: The 1913 Armory Show":
From February 17 until March 15, 1913, thousands of Americans pushed their way through the doors of the 69th Regiment Armory on the east side of New York City while a battle was waging "for or against" Modern Art for the first time.
What they saw would annoy and infuriate some...and captivate, delight, and inspire many.
What resulted from these four weeks of mass exposure to European artists such as Cezanne, Renoir, Van Gogh, and the upstart Marcel Duchamp (with his "Nude Descending a Staircase"), as well as such Americans as Marsden Hartley, John Marin, and Charles Sheeler, changed how Americans came to understand their own times. By entering through the doors of an armory, they had entered through the doors of the Modern Era.
"The Great Confusion: The 1913 Armory Show" features more than 60 works by American and European painters and sculptors and probes deeply into the history of how the show was organized. It provides fascinating glimpses into the backstage efforts of the American artists Arthur B. Davies, Walter Pach, and Walt Kuhn as they worked tirelessly to bring a new art to a new American audience.
Produced by 217 Films. Written, directed and narrated by Michael Maglaras. Executive Producer Terri Templeton. 2013. NR. 90 Minutes. http://www.two17films.com
More about 217 Films:
217 Films is an independent film company devoted to the American artistic experience.
In 2005, Michael Maglaras and Terri Templeton released their first film "Cleophas and His Own" taken from the American Modernist painter Marsden Hartley's epic narrative of love and loss, a private and personal narrative which was first published many years after his death. In "Cleophas and His Own," Maglaras both directed and played the role of Hartley.
In 2008, 217 Films' second release was the first-ever documentary film on the life of Hartley, called "Visible Silence: Marsden Hartley, Painter and Poet."
In 2010, with their film "John Marin: Let the Paint be Paint!" they established, through the first documentary made about this important painter, that John Marin was one of the fathers of American Modernism.
Among other distinctions, these films have been shown to acclaim at the National Gallery of Art in Washington, D.C.
In 2012, in honor of the re-publication by the Library of America of the six seminal graphic novels of the American master Lynd Ward, they released the film "O Brother Man: The Art and Life of Lynd Ward."
Celebrating the 100th anniversary of the art exhibition that introduced Modernism to America, in September 2013 "The Great Confusion: The 1913 Armory Show" was produced and is currently on tour across the United States.
Their sixth film "Enough to Live On: The Art of the WPA" will be released in 2015 in celebration of the 80th anniversary of the Federal Art Project under Franklin Roosevelt's New Deal.