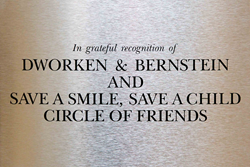 Contributing to Rainbow is a direct gift to our children
Cleveland, Ohio (PRWEB) April 02, 2014
Dworken & Bernstein Co., L.P.A. was honored on March 4th with a plaque on DeForia Lane in Rainbow Babies & Children's Hospital in Cleveland, Ohio. In 2012, Dworken & Bernstein donated $250,000.00 to support Pediatric Plastic Surgery under the leadership of Dr. Gregory Lakin and supporting Circle of Friends Save-a-Smile, Save-a-Child's fund raising initiative co-chaired by Barbara Marlowe and Meredith Farrow.
In 2013 the firm continued to support this effort with an additional gift. "When we speak to Cleveland's greatest assets and the importance of bringing young families back to Cleveland, there can be no greater draw than having unparalleled comprehensive, cutting-edge child care right here in Cleveland. The resources of Rainbow and its focused investment in providing the broadest and best treatment options for all of our children arguably is our community's greatest asset," commented Rosner. "Contributing to Rainbow is a direct gift to our children. Rainbow not only offers life saving, but also life changing treatment to our children. Dr. Gregory Lakin's efforts have fostered cutting-edge quality processes to treat disfigured children, yet another example of how we change the lives of young children in our community."
Dworken & Bernstein Co., L.P.A. is the largest law firm in Lake, Geauga and Ashtabula Counties, Ohio with additional offices in downtown Cleveland. Serving the community for over 50 years, Dworken & Bernstein and its 27 lawyers and staff of 65 offers a full range of legal services for businesses, individuals, and families.