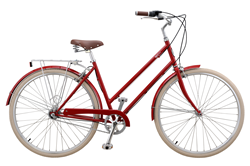 Gary brings a passion and enthusiasm for our segment of the market that is beyond infectious.
Brooklyn, NY (PRWEB) April 02, 2014
Lifestyle bike brand Brooklyn Bicycle Co. today announced it has named Gary Thornton to the position of National Sales Manager. Based out of the company's Williamsburg, Brooklyn headquarters, Thornton will oversee the brand's growing dealer base and manage a network of independent sales representatives.
Having previously worked for the likes of Giant and other brands, Thornton brings over twenty-five years of industry experience to the role. He was most recently the Mid Atlantic Sales manager for Electra prior to their acquisition by Trek.
"Gary brings a passion and enthusiasm for our segment of the market that is beyond infectious," says Brooklyn Bicycle Co. President Ryan Zagata. "We are thrilled to have both his industry experience and dealer relationships to help continue elevating the excitement and awareness of our brand."
"Brooklyn Bicycle Co. simply gets it. From the story of their brand to the quality of their products, the opportunity is tremendous," shares Thornton. "If this industry is to grow, it is this segment of the market that will fuel that growth. Having spent my entire career in the cycling industry, it is rare that a company is doing so much right in the eyes of both their customers and their dealers to help ensure growth. I feel fortunate to be joining such a brand," he added.
About Brooklyn Bicycle Co
Established in 2011, Brooklyn Bicycle Co. mirrors the same iconic qualities of Brooklyn itself - accessibility, durability, and original style. Brooklyn Bicycle Co. commuter bikes are available in single speed, three speed and seven speed models starting at $399. Bikes can be found at retail locations across the United States and in Canada or can be purchased online at http://www.brooklynbicycleco.com. For more information, contact Ryan Zagata at info@brooklynbicycleco.com or call (800) 631-0630. Brooklyn Bicycle Co. is based in Williamsburg, Brooklyn.