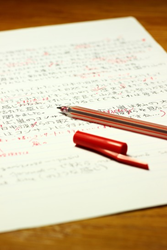 Be willing to provide support to your translation provider and resist the in-house urge.
Fort Worth, Texas (PRWEB) April 03, 2014
Our society is changing. Digital Age values have tweaked some of the definitions associated with "predictable" terms.
"Accuracy" is a good example. Before, we might have defined "accuracy" as "a thorough process including quality assurance, fact checking and overall correctness."
The modern day definition of accuracy might come with a contextual caveat, though—"a thorough process including quality assurance, fact checking and overall correctness as time allows."
In journalism, this digital age change is often referred to as the dilemma between accuracy and immediacy—is it more important to inform the public right away and risk inaccuracy, or take more time to provide an accurate product?
Clients, especially in the area of life sciences, often inquire about accuracy assurance. "OK, we've received our translation and it looks great, but how do we ensure that it is accurate?" they ask.
Here are six ways to ensure that the translations you receive are not only delivered in a quality, timely manner, but also with accurate meaning.
1. Know who you hired. You can avoid the retroactivity and second guessing that may come after delivery if you have conducted a thorough language service provider selection process before you even have anything translated.
2. Be willing to provide support. There will be fewer issues with terminology if you either provide your translation service with previously translated materials (the quality of which you like) or request that a glossary is prepared and approved before translation begins. Appoint someone in your organization who will be available to consult with the translators, explain a term or the ins- and outs- of a process.
3. Resist the in-house urge. Be wary of translations or linguistic reviews completed by bilingual in-house personnel or distributors. Non-linguists will want to be making preferential changes without linguistic substantiation. "It just sounds better this way," they will say. If you want full control over linguistic review, consider a third party provider whose sole objective will be occasional quality-checking. Also, if you are worried that the translation is not culturally- or contextually-accurate, you might want to inquire with your translation provider about adding an in-country reviewer to the translation process.
4. If you must do in-house review, please use guidelines. If you just read number three and realized that you're already using an in-house or distributor accuracy check, that's fine. In order to ensure that said process is actually productive, however, we suggest you request guidelines for effective in-house review from your translation provider.
5. Back-translation as a verification tool. Many users of translation services still verify translation using back-translation. It is usually the case in case of products subject to compliance verification or certification (FDA, IRB, etc.). Your translation provider should know how to ensure the independence and objectivity of such process. Alternately, you might request assistance of a third-party service.
6. Value accuracy. If you're reading this, chances are you already think accuracy is important. When we suggest that you "value" accuracy, we are really saying, "do not buy into the idea that you have to sacrifice accuracy for immediacy." The two are not mutually exclusive; actually, they can be partners, depending on the definition of immediacy. If by "immediacy," one means " a matter of hours," there is a chance that accuracy could suffer. If "immediacy" means "a couple days," accuracy will likely thrive, especially when prioritized. Work with your translation provider on scheduling.
We are excited to share informative and entertaining free content with you. Click here to stay in touch and receive new updates.