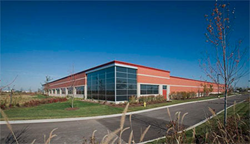 The Continuum team is building a premier asset, with robust infrastructure and a dedication to excellence. We look forward to working with the team, and bringing the value our vast experience to bear. - Shawn Till, CEO of Primary Integration
West Chicago, IL (PRWEB) April 02, 2014
Colocation solutions provider New Continuum Holdings Corporation dba Continuum Data Centers ("Continuum") a premier multi-tenant data center operator in the western Chicago suburbs has selected Primary Integration to commission Phase 1 of its new 80,000 square foot colocation data center. When fully complete, the purpose built, high density Tier III+ facility will offer fully redundant A/B critical load power with future plans of up to 48 MW of total power capacity on approximately 20 acres. The hardened facility includes Kevlar and steel mesh lined concrete walls able to withstand winds in excess of 100 mph. Cooling is provided using highly efficient, high density cooling solutions. The facility has applied for Open-IX Data Center Certification, providing an "open" and cost-effective Internet Exchange and Interconnection platform.
The facility is located far from urban environments and traditional threat zones. Situated 5 miles (line of sight) from the Chicago Mercantile Exchange's Aurora, IL colocation facility and neighboring Fermilab, the U.S. Department of Energy advanced research institution, the region has been vetted for disaster and risk mitigation. When completed in mid-2014, the facility will offer private suites, custom private cages as well full cabinet colocation.
"We are extremely excited to be working with Primary Integration," said Eli D. Scher, Continuum's Chairman and CEO. "The team at Primary Integration has unparalleled experience in commissioning mission critical infrastructure and highly complex systems." He continued "they have worked with the best names in our business and this continues our focus on partnering with industry leaders and implementing best-in-class technology and operational procedures." Shawn Till, CEO of Primary Integration added "the Continuum team is building a premier asset, with robust infrastructure and a dedication to excellence. We look forward to working with the team through the coming months, and bringing the value our vast experience to bear."
About New Continuum Holdings Corporation:
New Continuum Holdings Corporation has been at the forefront of the Chicago suburban colocation market for over 10 years, and has a track record of developing world class assets. We develop or seek to own assets which are differentiated by their inherent infrastructure geography or other core traits. In doing so, we aim to consistently provide our customers with superior risk aversion profiles. Our team has the experience and expertise to understand and manage the needs of a diverse customer base, including trading and financial firms requiring high-density, efficient computation, as well as Enterprise and Fortune 1000 companies and retail customers requiring primary colocation
For more information, please visit: http://www.continuumdatacenters.com/.
About Primary Integration:
PI is an independent, industry certified, 3rd party commissioning authority (CxA) with a concentrated focus on the commissioning and operational sustainability of mission critical facilities. Founded in 2005, the vision behind PI was to build the most elite, mission critical commissioning and sustainable operations business in the country. By attracting the best talent in the industry, establishing comprehensive processes for completing commissioning projects and adhering to the highest standards of quality and performance, PI has been able to create a foundation for continued growth and success. We have rapidly become one of the country's largest 3rd party commissioning and sustainable operations services providers. PI was the first, and currently the only, independent ISO 9001:2008 certified commissioning firm in the world. Our dedicated team of over 80 full time employees continually receive education and training in the latest technologies and industry trends. For more information, please visit: http://www.primaryintegration.com.