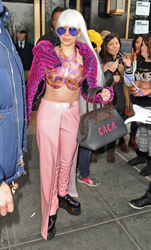 new york, NY (PRWEB) April 02, 2014
Always one to make a statement, Lady Gaga showed off her bold style with a preview pair of T.U.K. Footwear's Fall 2014 Double Double Mondo Creepers. These are the tallest T.U.K. creepers yet and feature multi-color interlace and rainbow metallic double platform soles.
Later she was spotted in a t-shirt, jeans, and black & white Hello Kitty x T.U.K. Creepers. This limited edition collaboration is selling out quick, so get yours today.
This also comes on the heels of the release of T.U.K.'s new 'Yo! T.U.K. Wraps' - a new collection of glitter, leopard, and polka dot wrap-soled creepers.
See more pictures & info here: http://tukshoes.blogspot.com/2014/04/lady-gaga-nylon-magazine-videos-more.html
The future of footwear looks so bright, we all have to wear shades.
About T.U.K. Footwear
Since their start in 1991, the San Diego, CA based footwear company T.U.K. has been creating bold, original footwear for men and women. Footwear made for and inspired by bands, music fanatics, fashionistas, and individuals with eclectic tastes. With their huge range from traditional classics to modern upstarts they are constantly providing creative style with an original edge.
For more information, please visit http://www.tukshoes.com.