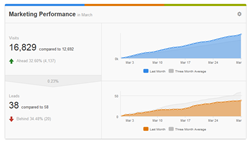 Just because you have 500 leads doesn't mean they will all turn into business. It's about quality over quantity.
Pensacola, FL (PRWEB) April 11, 2014
SPROUT Content, a content marketing agency, is proud to announce each team member is now HubSpot certified. As a HubSpot Certified Agency Partner, SPROUT Content uses the inbound marketing tool for creating, planning and measuring helpful content that businesses need to attract customers and retain their loyalty.
SPROUT Content team members Dechay Watts, Debbie Williams, Chris Hawkins, Andrea Miller and Molly Bruno have completed a two-part HubSpot certification, including a comprehensive test on inbound marketing best practices, as well as a working knowledge of the inbound software. They each attended 13 online classes, learning about inbound marketing strategy from goal setting and planning to social media and blogging, to analyzing website page performance.
As an inbound marketing firm, SPROUT Content helps its clients tell an authentic and consistent story that leaves an indelible mark on their target market while meeting company goals and delivering results. Measuring those results is made possible with HubSpot.
"HubSpot lets us track the success of every piece of content we create. From web pages to landing pages and blog posts, we can see how people are interacting and responding to the content. We can implement a SEO strategy with help from the keyword tool, monitor the progress by watching leads and visits, and easily show results with help from the reports. HubSpot lets us focus on conceptualizing and creating great content rather than spending time trying to prove results," said SPROUT Content Co-founder Dechay Watts.
SPROUT Content applies this methodology to its own business. When the company was formed in 2009, the terms content marketing or inbound marketing was rarely used. Co-founders Watts and Debbie Williams started off educating business leaders on the benefits of content marketing.
"In the beginning, we were so excited that people we didn't know were downloading our e-books that we tried to reach out to everyone right away. But we now look at leads from a sales funnel perspective. We are better at qualifying our contacts and thinking about who we want as clients rather than jumping at every opportunity that comes along," said Williams.
In fact, SPROUT Content saw a dramatic drop (35%) in leads in March 2014 after removing a free download about editorial calendars from its website. It was a strategic decision made once Watts and Williams realized that most of the people downloading this resource were from companies doing competitive research.
"Just because you have 500 leads doesn't mean they will all turn into business. It's about quality over quantity," said Watts.
While leads have decreased, site visits have increased by 33%, which Watts says proves they made the right decision to weed through the contacts and focus on the ones that may actually be converted into clients.
Inbound marketing is about more than just adopting software, but the right type of software is necessary in order to be able to measure your strategic marketing efforts. The HubSpot platform allows SPROUT Content to offer inbound marketing as part of a complete content marketing strategy for both itself and its clients.
Watts and Williams saw the value in having everyone on their staff commit to becoming HubSpot certified without much delay. The staff of five completed the task in just a couple of months.
About SPROUT Content
Dechay Watts is Chief Strategy Officer and Debbie Williams is Chief Content Officer, at SPROUT Content, a content marketing agency with locations in Pensacola, FL and Denver, CO. Watts and Williams are co-authors of the book Brands in Glass Houses: How to Embrace Transparency and Grow your Business through Content Marketing available for purchase at Amazon or Barnes & Noble. SPROUT Content is a certified HubSpot agency partner and winner of the 2013 HubSpot Partner award for annual website traffic growth.