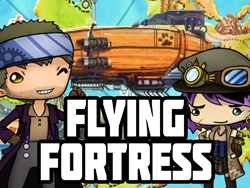 The Spirit of Adventure Comes to iOS
Los Angeles, CA (PRWEB) April 02, 2014
BoxCat Games, the 2-man indie developer team of the award winning mobile game, Nameless: The Hackers RPG, now feverously working on their next title, Flying Fortress RPG, which is expected to release Q3 2014.
Flying Fortress RPG takes place in a futuristic steampunk universe that combines deep character narratives with lush pixel art environments in epic airship battle gameplay! The game will feature 108 collectible story-driven characters, the ability to craft and tinker with airships setups, and an exploration-based culture filled with kooky inventors, ruthless air-pirates, zealous Imperials, and a desperate rebellion force.
The spirit of adventure goes mobile with Flying Fortress RPG! Live out your dreams of becoming an airship pirate as you save the land from total Imperial rule.
BoxCat is offering an exclusive airship to players who join the Rebel Coalition & a chance to participate in the limited closed beta. Sign up at the Rebel Recruitment Page.
Flying Fortress PRESS KIT
http://box-cat.com/flyingfortress
Rebel Recruitment Page
Preview Story Trailer
https://www.youtube.com/watch?v=qTB6qhfRm20
ABOUT BOXCAT GAMES
BoxCat Games is an award-winning Los Angeles-based video game development studio that focuses on making story driven narrative games with awesome UI for mobile. Founded by James Liu, a former White Hat security expert and Stephen Ip, a Japanese Hip Hop producer, BoxCat Games has been turning heads with their debut game, Nameless: the Hackers RPG. Winner of SlideDB's App of the Year 2013 Interaction Award and 148Apps Editor's Choice, Nameless: the Hackers RPG continues to bring a unique perspective to the JRPG category. With over 2000 reviews internationally and an average of 4.7 ratings, Nameless: the Hackers RPG has quickly become a must-have for any iOS RPG player. Moving forward, BoxCat Games aims to release more titles in 2014. More information about the studio can be found at http://box.cat.