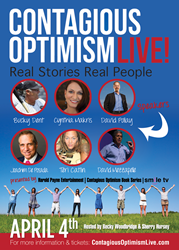 "You may well find out that you are already a much more optimistic person than you thought you were and well on the road to where you want to be."-Examiner
(PRWEB) April 02, 2014
At the first inaugural Contagious Optimism Live, David Mezzapelle presents a full day of real people who have overcome life's obstacles to achieve their dreams. Contagious Optimism Live is based on the best-selling eponymous book from Viva Editions that collects the inspiring stories of real people with fierce optimism in the face of hardship. The live event will feature performances, musical entertainment, speakers, and an evening reception. Registration for the conference includes a complimentary copy of Contagious Optimism: Uplifting Stories and Motivational Advice for Positive Forward Thinking.
Speakers include Becky Woodbridge, Ricky Wade, and David Mezzapelle.
A portion of the proceeds from Contagious Optimism will go to Fairfield University and various charities. Also available in audio.
What People Are Saying about Contagious Optimism:
"Could give the Chicken Soup for the Soul volumes a run for their money."
—Connecticut Post
"Real stories from real people around the globe which demonstrates that every cloud has a silver lining."
—Nothing but Good News
David Mezzapelle has been motivating others to be positive since his childhood. Mezzapelle was the founder and director of marketing for Goliath Technology, a leader in data center infrastructure that supported corporations, schools and government agencies worldwide. In addition, he orchestrated one of the most innovative academic internship programs ever created. A graduate of Fairfield University in Connecticut, Mezzapelle worked with the students at Fairfield on the Contagious Optimism book project. It has proved successful for the students in several ways; many students are getting jobs or into graduate school based on the experience. After selling Goliath Technology, Mezzapelle launched several companies. Today, Mezzapelle consults on various projects and initiatives along with serving on several public and private boards. Throughout his life he has encountered great peaks and valleys, all of which he is thankful for. He never lost sight along the way and has kept his positive attitude and confidence at 110 percent. A regular contributor to the Wall Street Journal and various other international publications, Mezzapelle has been a frequent guest on radio and television. He resides in Jupiter, Florida with his wife, Courtney. Find him online at http://www.contagiousoptimism.com