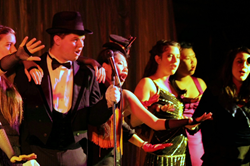 Northridge, CA (PRWEB) April 02, 2014
The Highland Hall Waldorf School community enjoyed an evening of music, laughter and entertainment from a top notch line up of professional artists and student performers as part of a community fun-raising and school fundraising endeavor. The event raised over $150,000, and will benefit this Waldorf's school whole child academic and arts programs.
The dazzling array of entertainment was hosted by John Burke and Anny Lieberman. John Burke, an actor, has appeared in "The Amazing Spider-Man", "Pulse," "Personal FX," and "The Collectibles Show". Anny Lieberman, a singer, performs a wide range of music styles with power and soul and is founder of "Whose Image," which was featured on MTV and opened for the one-and-only Sheila E.
Event goers were treated to musical performances by Bob Remstein, a keyboardist, composer, and producer; Jerry Scott Edelnant, a guitarist/composer who regularly performs with the "This Ain't Your Daddy's Big Band;" Toshinari Yanagi, an international guitarist/composer who currently is in-house guitarist on the Jimmy Kimmel show; Rebecca Varon-Remstein, who has received critical acclaim for her one-woman cabaret shows, "Going Solo" and "Earning Her Spots," performed in LA and Amsterdam; Satoshi Kirisawa, a drummer who has performed and/or recorded with trumpet legend Carl Saunders, award winner Douglas Roegiers (The Winner is), Emmy-nominated composer David Ricard, Grammy Award-winning Steve Tyrell, and many others; Rick Guetschow, a bassist who has recorded or performed with Alan Paul, Tanya Tucker, and Tony-winner Levi Kreis; and the Highland Hall High School Orchestra led by Erick Bluske.
Filling the evening air with beautiful tunes were vocalists Nina Dorr, who has enjoyed a career on leading opera and concert stages performing classical and contemporary works and now heads Westworks Art Management; Anny Liebermann (above); Luann Aronson, who has played the role of Christine in The Phantom of the Opera on Broadway and on the World Tour and performed as a soloist in the Music of Andrew Lloyd Webber at Radio City Music Hall and with numerous symphonies throughout the US; as well as the Highland Hall Jazz Singers who were directed in choreography by Sarah Elgart and costumed by Claudia Kriva-Blevins.
Dancing by Lindsay Turner and Charles Henderson also graced the evening.
Prometheus Events & Solutions and 4 Wall Lighting and Entertainment generously donated the equipment for the event.
Highland Hall Waldorf School, located in Northridge, CA, was founded in 1955, and is the oldest Waldorf school on the west coast. It provides Waldorf® Education from Pre-school through High School to families throughout the San Fernando Valley and the greater Los Angeles area. Its unique approach to learning successfully addresses the changing needs and capacities of children at each stage of development. Fully 98% of its high school graduates move on to renowned colleges and universities; 42% of Waldorf graduates pursue college majors in mathematics or science. Featuring a curriculum of academically challenging lessons infused with arts and hands-on learning, Highland Hall provides students with a solid academic foundation, the ability to think creatively, a sympathetic interest in the world, self-confidence, and an abiding moral purpose.
Highland Hall, a non-profit school, does not discriminate due to race, gender, national origin, disability, or other basis protected by law.