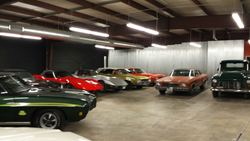 Evansville, IN (PRWEB) April 02, 2014
The open house and car show will be held from 9 a.m. to 4 p.m. at Evansville's newest classic car dealer located at 2501 Kratzville Rd. The event will be open to the public; all ages are welcome to come join the festivities.
VanAuto Motorsports carries a wide range of inventory with its primary focus on classic, muscle, and exotic cars. The showroom inventory includes everything from daily drivers to rare investment cars. VanAuto's goal is not only to provide you with a great investment, but to have fun driving it too.
Brain Schmett, VP COO, said, "We are excited about our first location opening in Evansville and are looking forward to the Grand Opening on April 12th."
The store hours are Monday-Saturday 8am to 8pm and is located on 2501 Kratzville Rd. in Evansville, IN 47710. For more information or to get a sneak peak at the showroom and inventory, please visit their website at http://vanauto.com/.