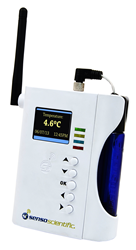 In responding to research RFP's such as OHSU and others, we were pleasantly surprised to see a preference for a cloud based platform. Now this technology concept has reached reality, and is rapidly growing.
(PRWEB) April 03, 2014
One of the major challenges for the research and life science industry has been safeguarding their research valuables such as temperature monitoring and data acquisition of other critical environmental parameters such as humidity, differential pressure, carbon dioxide, and oxygen.
Historically the temperature monitoring and data acquisition has been gathered by means of electronic data loggers and other antiquated software based technologies, which have been proven costly and have lacked scalability. "We are excited to see one of the leading national research institutions adopting the latest wireless temperature monitoring technology by moving to the SensoScientific cloud based platform. The cloud option offers significant economies of scale with a zero-cost infrastructure," stated Mike Zarei, VP of Business Development of SensoScientific.
In a partnership with Microsoft Azure, SensoScientific cloud platform offers a validated cloud-computing environment specifically designed for the scientific needs of the Life Sciences and Food Industries. The SensoScientific cloud is designed to adhere to 21 CFR Part 11 electronic record standards and ISO 17025 requirements. SensoScientific cloud is in adherence with the industry's most stringent compliance standards, making Validated Cloud the perfect alternative to similar in-house infrastructure and compliance investments. The zero cost infrastructure models and patented technology eliminates the need for computer hardware, network servers, and software.
About SensoScientific:
SensoScientific offers the widest ranges of temperature sensors, humidity sensors, WI-FI temperature monitors, and cloud sensors. Keeping it simple and empowered by the advanced firmware technology, SensoScientific offers a practical solution specifically designed to meet strict regulatory compliance requirements for Health care, life sciences, pharmaceutical and food safety industries where environmental monitoring is critical.
Notable SensoScientific clients include the FDA, UConn, University of Miami, University of Pittsburg, Hologic, Hospital Corporation of America, HHC, shriners children's hospital, Dignity Health, and United States Veteran Affairs. SensoScientific is also a contracted supplier of Amerinet and Premier GPO's.
For more information, please visit us online at http://www.sensoscientific.com/