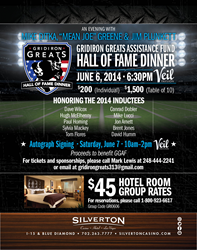 Mike Ditka, Chairman of the Gridiron Greats says, "We are excited to host our first West Coast Hall of Fame event in Las Vegas at the Silverton Casino. This is a great way for us to honor deserving individuals who have done so much helping others."
Las Vegas, NV (PRWEB) April 02, 2014
Gridiron Greats Assistance Fund, Inc. will hold their Hall of Fame Induction Dinner on Friday, June 6 and Autograph Show on Saturday, June 7 at Silverton Casino Hotel in Las Vegas. The Hall of Fame Dinner will honor players on the West Coast for their outstanding NFL playing careers and their legendary charitable work off the field.
Friday, June 6, 2014 – Hall of Fame Dinner: Dinner at 6:30 p.m. Tickets are $200 per person and $1,500 per table.
Saturday, June 7, 2014 – Gridiron Greats Autograph Show: 9 a.m. – 3 p.m.
For more information contact: Mark Lewis gridirongreats313(at)gmail(dot)com or at (248) 444-2241.
Sylvia Mackey will be named Gridiron Greats Woman of the Year for her passionate advocacy in assisting retired players and their families. The NFL implemented the 88 Plan (named after her late husband Hall of Famer, John Mackey). The plan assists retired players suffering from Dementia, Alzheimer's, Parkinson's and ALS. Paul Hornung and Mike Lucci will each be named Man of the Year to recognize them for their continued fundraising efforts supporting the Gridiron Greats.
Gridiron Greats 2014 Hall of Fame Inductees include: Jim Plunkett, Jon Arnett, Conrad Dobler, Tom Flores, David Humm, Hugh McElhenny, and Ricky Watters.
Mike Ditka, Chairman of the Gridiron Greats says, "We are excited to host our first West Coast Hall of Fame event in Las Vegas at the Silverton Casino. This is a great way for us to honor deserving individuals who have done so much helping others."
The inaugural Gridiron Greats Hall of Fame event started in Detroit, Michigan in 2009 with 150 attendees. Since inception over 40 players have been inducted and the event has grown to over 800 attendees. Gridiron Greats has been able to raise funds and awareness for the NFL retired player community and assist hundreds of players and their families in dire need. Based on success and popularity in Michigan, Gridiron Greats decided to host an additional fundraiser out west.
The Autograph Show on Saturday, June 7, 2014 will be held from 9am – 3pm inside Veil Pavilion at Silverton Casino and will include a star-studded lineup for fans to meet their favorite legends.
Gridiron Greats Assistance Fund offers special thanks to the sponsors: Silverton Casino Las Vegas, Oakland Raiders, Green Bay Packers and the Chicago Bears. Thanks to Mark Lewis, Director of Hall of Fame events, Karen Wright and Jared Unatin for all of their hard work.
About Gridiron Greats Assistance Fund
The Gridiron Greats Assistance Fund, Inc. (GGAF) is a Wisconsin nonprofit corporation that has received recognition of federal tax-exempt status as a public charity under Section 501(c)(3) of the Internal Revenue Code. Gridiron Greats mission is to assist dire need retired NFL players who were pioneers of the game and who have greatly contributed to the NFL's status as the most popular sport in America. GGAF provides hands-on assistance to help retired players and their families deal with hardships they face after football. The services include medical assistance, transportation costs for medical evaluations and surgeries, dental assistance, housing assistance, financial assistance for utilities, medication, and coordination of services for food, automotive payments and childcare.
About Silverton Casino Hotel
Silverton Casino Hotel offers 300 deluxe rooms and suites and world-class amenities all located within an upscale, contemporary luxury lodge-themed resort. Silverton Casino Hotel is home to a variety of restaurants and dining options, including the Seasons Buffet, the 24-hour Sundance Grill, Shady Grove Lounge, Twin Creeks Steakhouse, Mi Casa Grill Cantina, Starbucks and Johnny Rockets. In addition to the flagship 165,000-square-foot Bass Pro Shops Outdoor World, Silverton offers 90,000 square feet of gaming with more than 1,600 slot machines and 30 table games, and the Mermaid Restaurant & Lounge. The property features a 117,000-gallon saltwater aquarium with more than 4,000 sharks, stingrays and tropical fish, which was voted "Best Free Attraction" in the Best of Citysearch®. Silverton is located at I-15 and Blue Diamond in Las Vegas. For more information, please call 702-263-7777 or visit http://www.silvertoncasino.com.