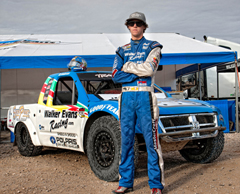 Having RJ Anderson on the Torture Team was an easy decision for Rigid...He personifies what we want our athletes to portray and has fun doing it too.
Gilbert, AZ (PRWEB) April 02, 2014
Rigid Industries LED Lighting®, a world leader in forward-projecting LED lighting solutions for powersports, off-road, marine, agriculture and multiple other uses, announces that Lucas Oil Off-Road Racing Series (LOORRS) driver RJ Anderson has joined its Torture Team of athletes. The frontrunner in LED lighting for off-road selects some of the world's most successful athletes who have earned great distinction within their fields.
The youngest Pro-class champion in off-road racing history, Anderson has already experienced as much success as many veteran drivers of the off-road racing circuit. Anderson claimed his first professional racing championship at age 18, winning the LOORRS UTV Championship crown in 2011.
RJ also experienced success quickly when he moved into the Pro-Lite and Super-Lite divisions in the LOORRS and The Off-Road Championship (TORC) racing series. In his first full season behind the wheel, Anderson won TORC Rookie of the Year honors while finishing second in points for the Pro-Lite series and class championship. RJ further cemented himself as an elite driver when he became the LOORRS Pro-Lite Champion and Driver of the Year and Dirt Sports Magazine's Short Course Driver of the Year in 2012.the series finale Challenge Cup race in his Super-Lite bringing home a $10,000 check and the prestigious Lucas Oil Challenge Cup trophy
Anderson's youthful energy and already established level of success make him a natural fit for Rigid's Torture Team of professional racers who utilize the world's best LED products to light their way.
"By starting my own team in 2014, I knew this was my chance to partner with the very best brands in the industry," said Anderson. "Becoming a part of the Torture Team was a no brainer for me. I am excited to work with Rigid Industries as a sponsor for all we have planned on and off the track this year!"
"Having RJ Anderson on the Torture Team was an easy decision for Rigid," said Taylor Anderson, Vice President of Marketing at Rigid Industries. "On top of being a very talented driver of pretty much anything in the dirt, RJ does it with style. He personifies what we want our athletes to portray and has fun doing it too."
As part of the partnership, RJ will utilize Rigid LED Lighting on his #37 Polaris® RZR / Monster Energy PRO-2 truck while competing in the Lucas Oil Off-Road Racing Series, which features night races at six of its eight events this season. His truck will also proudly display the Rigid Industries signature star emblem, recognized most in the desert racing world in which it got its start.
The toughest conditions on Earth are no match for the superior lighting and long-lasting performance Rigid Industries LED Lighting products provide. Rigid's uniquely durable products are backed by a world-renowned warranty program and customer service by an American-made company located in Gilbert, Arizona.
About Rigid Industries:
Thanks to its unparalleled patented Hybrid, Specter and new Hyperspot optics and its torture-tested housings, Rigid Industries® is a world leader in the forward-projecting LED lighting industry. Rigid LED lighting products can be used in a plethora of applications across industries such as: aviation, agriculture, construction, emergency response, industrial, marine, military, mining and off-road and power sports. Rigid Industries® is committed to providing innovative technologies and always guarantees a quality product which has been designed, engineered and assembled in the USA. For more information and a comprehensive list of products, visit http://www.rigidindustries.com or follow the company on Facebook, LinkedIn and Twitter.