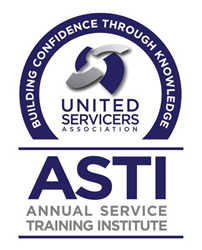 We are honored to receive this award from the leading service association, says Chuck Huebner, CEO of Dacor.
Los Angeles (PRWEB) April 02, 2014
Dacor®, manufacturer of ultra-premium kitchen appliances, announces its 2014 United Servicers Association (USA) Partnership Award win for its high-quality, after-purchase service experience. A second consecutive win for Dacor, the award signifies the company's focus on service training and technical support.
"We are honored to receive this award from the leading service association," says Chuck Huebner, CEO of Dacor. "At Dacor we are continually looking for ways to elevate the passionate home chef's experience, and that means that every facet of our business must be top-notch."
Dacor received the Partnership Award for its participation in the association's Institute of Service Training events and for its ongoing contributions. Other companies to win in years past include Whirlpool, Samsung and Electrolux.
"We are thrilled to win the United Servicers Association's Partnership Award and to be recognized by such key influencers in the appliance service industry," says Rob Marriott, Dacor national technical manager. "Winning this award is a testament to Dacor's ongoing commitment to leadership to ensure our customers always receive the highest quality service and satisfaction."
ABOUT DACOR
Founded in 1965, Dacor is a manufacturer of ultra-premium kitchen appliances. Designed and built in California, Dacor's cooking appliances integrate function and technology to create high-performing, intuitive products that reflect the lifestyle and needs of the passionate cook. For nearly 50 years, Dacor has been responsible for many of the innovations that have improved the way people cook in the modern kitchen. Dacor is family-owned and embraces the legacy, heritage and expertise of a third generation to lead the company into a new age of cooking innovation. For more information about Dacor and its products, visit dacor.com.
ABOUT UNITED SERVICERS ASSOCIATION (USA)
USA is a North American non-profit service trade association formed by servicers for servicers in 1992. Its mission and purpose is to develop and provide services and programs intended to assist members in building strong businesses for the purpose of competing successfully in North America's competitive environment. To achieve these goals, USA provides educational programs, government relations, and management and marketing programs. Visit USA's Web site at unitedservicers.com.