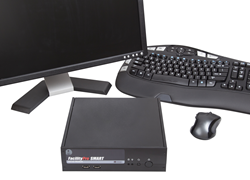 Boulder, Colorado (PRWEB) April 02, 2014
Particle Measuring Systems announces the introduction of a newly-expanded line of FacilityPro environmental monitoring systems, designed specifically for pharmaceutical environmental monitoring applications. The FacilityPro Processors provide the central hub for an environmental monitoring system to control sensors and other I/O, buffer data, and check tolerances. FacilityPro software provides the user interface, data management, and reporting for the monitoring system.
The industrial automation design of FacilityPro systems ensures critical data are always available and protected when needed for batch release and reporting. Intelligent software features make data collection and reporting more efficient with reduced human error. The hardware and software modules of the systems are designed to speed installation and validation, and provide easier upgrade and expansion capabilities. Integration with existing software systems is simplified through the open, industrial platform.
Viable, nonviable, and environmental sensors are integrated through a common FacilityPro platform, providing users with a single control system to visualize and manage data. Sample collection is automated through pre-configured recipes to save time and reduce error. Batch identifiers and data filters allow simple generation of custom reports for batch release, investigations, and trend analysis. Remote access to the system is supported through multiple options including dedicated client stations, web server access, and tablets.
The next-generation FacilityPro systems are the latest products to simplify the environmental monitoring process in pharmaceutical cleanrooms.