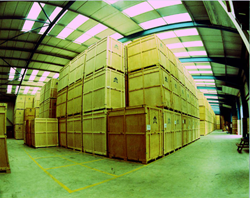 San Jose, California (PRWEB) April 03, 2014
England Van Lines, a company that provides cross country moving and storage services nationwide, is pleased to announce that they are in the process of upgrading their entire fleet of heavy-duty moving trucks to be GPS-equipped. The new upgrades will enable a more synergistic system of logistics and tracking for the company and its customers. Once the new tracking option is in place, the company will be able to deliver timely updates to its customers on the whereabouts of their moving items as well as on the estimated time of delivery to any designated storage unit (in cases of stored item contracts). The new feature will be available to all cross country moving and storage moving customers in early May, 2014.
An estimated 16 million people relocate over long distances in the U.S. each year, according to the most recent statistics compiled by Moving Authority. Many of these people require professional cross country moving and storage services to better facilitate their relocation. A common concern when using any moving company to transport items over long distances revolves around the logistics and in knowing where the personal possessions are, and when they will arrive at their intended destination. England Van Lines' forthcoming GPS-equipped fleet will serve to reduce customer stresses over these important logistics by enabling real-time tracking. Upon the launch of the feature, customers will be able to contact the company to receive a real-time update and upgraded delivery time and date estimate of their items.
"As a premier cross country moving and storage services provider, we understand that there can be concern amongst our customers regarding where their items are and when they will be delivered," explained company spokesperson, William Alexander. "The goal of this new GPS tracking feature will be dual purpose: To enable us to better enhance our internal logistics; and to allow us to better serve our customers with timely reports on their relocation logistics."
You can learn more by visiting England Van Lines online.
About
England Van Lines offers cross country moving and storage services nationwide with a specific focus on a quality customer experience. The company features a GPS-equipped fleet of modernized trucks that enables them to provide their valued customers with a logistics on where their items are at all times. They also offer the same logistics for storage services, so customers can enjoy low-stress relocation. The company offers their moving, packing and crating and storage services across all 50 U.S. states.
Press Contact:
William Alexander
England Van Lines
(408) 514-5998