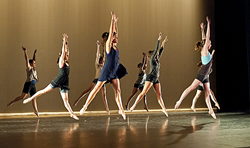 Claremont, Calif. (PRWEB) April 02, 2014
"SCRIPPS DANCES," the annual spring concert of the Scripps College Dance Department featuring original dance pieces choreographed by students and faculty, will take place April 11 at 8 p.m. and April 12 at 2 p.m. and 8 p.m. in Garrison Theater of the Scripps College Performing Arts Center.
Tickets will be sold at the box office beginning at 6 p.m. on performance evenings and 1 p.m. for the matinee. General admission is $10 and $5 for seniors, students, and Claremont Colleges faculty and staff. Payment is accepted by cash or check only. For general concert information, call (909) 607-2934.
SCRIPPS DANCES is the highlight of the dance department's spring calendar and presents an eclectic range of dance styles. Several works this year take their inspiration from current social issues. Dance faculty member Suchi Branfman, working in collaboration with her dancers, addresses the ways in which communities and activism arise in the aftermath and recovery from natural disasters. Scripps senior dance major Maximanova Greenberg probes the deeper, more freeing, and possibly transgressive side of exotic dance, while an ensemble piece by Scripps senior dance major Emily Simmons explores the blurred relationship between individuality and conformity in western society.
A number of works investigate themes of complex emotion. Pitzer College junior Annie Whitford's contemporary quartet plays with ideas of nostalgia and personal intimacy, while a solo by Simmons represents the spatial path of memories of lost loved ones. In another solo, Greenberg delves into the struggles of coping with a chronic injury through gesture and tap. Dance faculty member Kirsten Johansen explores a mélange of seemingly disconnected ideas about women, conflict, alien abduction, submariners and world war while Scripps junior Christiana Ho plays with concepts of ghosts and a sixth sense in her hip-hop infused contemporary piece and Scripps senior Liv Townsend deconstructs funky, silly movements into an abstract modern work.
Scripps senior Megan Gianniny presents Irish dance in its myriad forms while senior dance major and Pitzer student Emily Kleeman previews excerpts from her new story ballet, "The Marauder's Son," based on the first novel in a popular young adult series. Staff member Ray McNamara pulls the show together with rhythmic vignettes using bodies and pitch tubes, performed intermittently throughout the performance.
Scripps College was founded in 1926 by Ellen Browning Scripps, a pioneering philanthropist and influential figure in the worlds of education, publishing, and women's rights. Today, Scripps is a nationally top-ranked liberal arts college and women's college with approximately 950 students, and is a member of The Claremont Colleges in Southern California. The mission of Scripps College is to educate women to develop their intellects and talents through active participation in a community of scholars, so that as graduates they may contribute to society through public and private lives of leadership, service, integrity, and creativity.