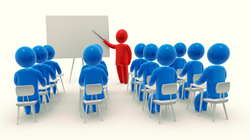 Sawtelle, California (PRWEB) April 02, 2014
24-7 Van Lines are implementing new training measures in order to increase awareness among personnel and help promote customer relationships that grow and remain fruitful during relocations that can sometimes take place over months at a time, depending on the size of the client. Among all discount movers in San Diego, 24-7 Van Lines have one of the best customer service records when it comes to five star ratings on social networking sites devoted to information sharing.
The new training programs will be devoted to fostering great relationships on and off the job, and are being taught by instructors in both one on one and group sessions. The possibility of opening focus groups and inviting members of the community to take part in these training sessions is being discussed at length. Company spokesperson Mark Tanning had this to say: "We think that sharing the experience with untrained members of the community will add an element of realism to the experience that couldn't be acquired with other trainees in the same field. We want them to feel like they've grown through these new training programs, not just in their career relationships, but in their relationships with family and friends as well."
In addition, company aptitude testing is being expanded with the introduction of many new departments added for the purpose of providing additional services to clients. Many discount movers in San Diego provide limited resources and availability to clients, past and present, and 24-7 Van Lines intends to find new ways of attracting more clients through these new services.
The new training program is based upon a simple idea: fostering respect through mutual understanding. Trainers have suggested that most conflict erupts from misunderstanding. If you know and understand another human being, it is less likely that conflict will occur. By communicating life experiences and asking for reciprocation, many adversarial relationships will lose their momentum, with many even resulting in friendship. Another aspect that pertains to conflict is being in a position in which one feels powerless and unskilled. By providing the newly enhanced aptitude tests, employees will be assigned tasks that make more sense when considering their inherent abilities and interests.
24-7 Van Lines take pride in being one of the best trained, most experienced professional moving companies available anywhere in the country, and they offer commercial, business, and office moving at rates that most competing companies can't afford. Visit the website for a free, no obligation quote today.