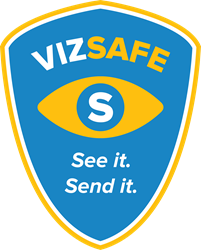 Boston, MA (PRWEB) April 02, 2014
Today, VizSAFE, the first community safety social network announced updates to their mobile crowdsourcing platform in time to enhance safety and awareness at the 118th Annual Boston Marathon. VizSAFE's mobile App and website, like other social media, is free and empowers the "crowd" to capture and map photos or videos of anything that impacts the well-being of the Marathon community. This content is instantly shared with other concerned citizens and is actionable by first responders when appropriate. The VizSAFE mobile app can be downloaded at the iTunes and/or Android Store or http://www.vizsafe.com/bostonmarathon.
After last year's Marathon tragedy, investigators reviewed 13,000 videos and 120,000 photos, much of it sent by fans from their smartphones to help law enforcement. The participation of the "crowd" was enthusiastic and immediate, yet law enforcement analysts were challenged by the lack of a platform to collect and organize this content in an efficient way. As a result, the data mining effort to process and analyze all of the submitted content was unprecedented. VizSAFE is a free platform that solves this problem by aggregating, organizing, mapping and sharing this content with fans, family and first responders in real-time to improve community safety at events, and in everyday life. "Enabling ordinary citizens to crowdsource community safety content, especially around major events like the Boston Marathon, is a powerful benefit of the intersection of mobile technology and social networks," said Peter Mottur, CEO of Rhode Island based VizSAFE.
"If everybody on the route has this app they are the eyes and ears of the police department in real time," said Lt. William Fitzgerald of the Newport, RI Police Department, who encouraged citizens to bring VizSAFE on their mobile devices to this year's Newport St. Patrick's Day Parade.
Peter Mottur, added "Looked at from the perspective of citizens, it is a way to actively engage in the well being of their community. Looked at from the perspective of first responders, the crowd is a powerful force multiplier. This was borne out by our experience working with the Port Authority of NY & NJ Police Department at this year's Super Bowl."
About VizSAFE, Inc.
VizSAFE is the only 24/7 global platform dedicated to community safety. VizSAFE's innovative social and mobile web community harnesses the power of citizens to enhance event and community safety by crowdsourcing, organizing and sharing visual safety content in real-time. VizSAFE users are fans and neighbors who support their communities, as well as first responders in fire, emergency medical, law enforcement, environmental, animal safety and more. VizSAFE partners with organizations that care about public safety. Learn more at http://www.vizsafe.com.