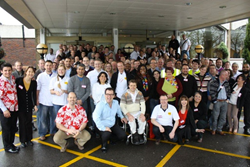 The main thing we need to know is that every house is made up of a 'debt bit' and a 'cash bit'. So when people want to sell a property, they want to either get hold of the 'cash bit' or get away from the 'debt bit'.
(PRWEB) April 02, 2014
International real estate advocate, Rick Otton, is celebrating the success of his annual Zero Debt Property Cash Flow Bootcamp in the UK, held at the end of March. The three-day creative real estate seminar gave property investors insights into Mr Otton's signature strategies and systems which ultimately boil down to one question – how can people buy properties without bank financing, and personal cash, in the midst of peak housing conditions?
Mr Otton, who is internationally renowned for mentoring investors on ways to purchase properties without being limited by cash, credit or experience, describes himself as the "property guy with a twist".
Over the past two decades, he has taught tens of thousands of students non-traditional ways of building their property portfolios through techniques such as deposit builder contracts and lease options.
"The annual UK event is always a pleasure for me to host. This year, as with previous years, there was an incredibly positive response to the property investing strategies I revealed. People came away feeling uplifted, energised and ready to start their journey to financial freedom through the innovative and easy-to-learn toolkit of resources they acquired," Mr Otton said.
Progressive property tips
During the three-day Zero Debt Property Cash Flow Bootcamp, Mr Otton demonstrated to participant's alternative solutions to typical real estate investing scenarios.
"The main thing we need to know is that every house is made up of a 'debt bit' and a 'cash bit'," he explained.
"So when people want to sell a property, they want to either get hold of the 'cash bit' or get away from the 'debt bit' because they can no longer afford payments on their mortgage. Although UK house prices have soared, the harsh reality is that many people actually have negative equity on their properties, which means that they owe more to the lender than what their houses are worth."
In one low-risk high-reward scenario, for example, he said students could instead offer to "babysit the seller's loan".
They could then find a buyer who' for whatever reason' was having problems sourcing traditional bank lending, and then act as the facilitator between the two. By acting as the middleman, the facilitator could benefit from positive cash flow without spending their own capital, the buyer would have a foot in the property market and the seller would be rid of their debt.
For those unable to attend the event, Mr Otton is providing complimentary access to his downloadable Power Property Profits Pack at RickOtton.co.uk/freepack. Phone enquiries in the UK are welcome on 0207 000 1027.
About Rick Otton
Rick Otton is a property investment professional who, over the last 20 years, has introduced innovative real estate strategies to the UK, Australian and the United States. His creative 'low-risk, high-reward' approach to buying and selling houses is exemplified in his own business, We Buy Houses.
This year marks the 10-year anniversary of Mr Otton introducing his strategies to the UK, and the 5-year anniversary of his innovative 'Buy A House For A Pound' process – one that attempted to be emulated by others. His constant process of strategy refinement, and adapting to the ever-changing real estate market, continues to place him at the forefront of property investment education.
In 2012 Rick Otton published his Australian book 'How To Buy A House For A Dollar' which was named in the list of Top 10 Most Popular Finance Titles for 2013. A UK version is on the drawing board for publication in 2014.
Mr Otton freely shares insights into his non-bank-loan strategies that have allowed everyday UK men and women to beat the rental cycle and have their own homes. He coaches others on how to build profitable businesses by facilitating transactions that focus on the needs of potential buyers and motivated sellers.