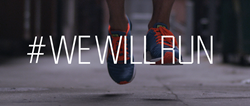 As Boston Strong we will come together on April 21st, 2014 and WE WILL RUN JJ Miller
Boston, MA. (PRWEB) April 02, 2014
On April 21, 2014 the world's focus will return to this great city to watch the 118th Boston Marathon. JJ Miller Productions has created an inspirational and touching video to not only honor last year's runners and the tragedy that has overshadowed the 117th Boston Marathon, but also build a story of this year's marathon that demonstrates resilience and perseverance.
The video was written by JJ Miller and Rich DiMare both of whom wanted to pay tribute to those who lost their lives and were gravely injured in the bombings. Together they created the hashtag #WEWILLRUN as a reminder that terrorism cannot instill fear in us and especially in a sporting event that welcomes athletes as equals during the 26.2-mile run. The video was shot on a Red Epic and Movi, GoPro3+ and a DJI. Director JJ Miller and DP Jeff Melanson wanted to capture iconic Boston landmarks while also staying true to the concept of resilience and perseverance. Produced by Alexandra Bettencourt, the team set out to create a well-produced video that delivered a simple message: #WEWILLRUN. Boston is a city of champions and was built on hard work. This is a city where Americans and immigrants alike can create roots and expand their families. Where students can share ideas freely and add to knowledge in many fields. In Boston, we band together and give back to our communities. This project was also an opportunity for a group of people to use their creativity for good and tell the people of Boston just how important it is to keep running, cheering, and participating in this iconic event.
As a team, we would like to dedicate this movie to the victim's of last year's bombings, Martin Richard, Krystle Campbell and Lingzi Lu, as well as to MIT Police Officer Sean Collier who died in the line of duty. We honor the many people who were injured and continue to travel the road to recovery. Lastly, we salute the brave men and women who tirelessly worked in the days after the bombings."
"As Boston Strong we will come together on April 21st and "WE WILL RUN".
Director- JJ Miller
DP- Jeff Melanson
First Assistant Camera- Nolan Ball
Producer- Alexandra Bettencourt
Narrator- Rich DiMare
Written by: JJ Miller and Rich DiMare
Talent-
Cory Saunders
Emma Robinson
CoryLee Willman
Alexandra Bettencourt
Kevin Clough
Eddie Frateschi
Andy Johnson
Audrey Johnson
Cavan Rogers
JJ Miller
Photographer / Director
508-740-8448
http://www.jjmillerphotography.com