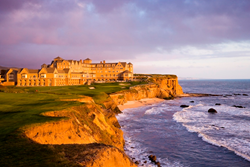 Half Moon Bay, California (PRWEB) April 02, 2014
The Ritz-Carlton, Half Moon Bay announces its spring and summer line up for the 2014 Vintner Series at the coastal resort. Each month, a different winery is highlighted throughout the resort. Guests are offered a complimentary glass of the featured wine upon check in, a select varietal tasting series in presented in ENO and twice during the month, a four-course vintner dinner is presented in Navio.
April – Saintsbury
Vintner Dinner: Thursday, April 10 and Friday, April 11
Since 1981, Saintsbury has been committed to demonstrating that Pinot Noir has a steadfast place in Northern California's winemaking landscape. David Graves and Richard Ward founded the winery with belief that innovation and a critical look at the vineyard, terrior and winemaking is the best route to quality. Today with winemakers Chris Kajani and Tim Colla, Saintsbury continues to pursue the "philosophy of investigation" and to produce exceptional Pinot Noir and Chardonnay.
May – Flowers Vineyard & Winery
Vintner Dinner: Thursday, May 8 and Friday, May 9
Perched on top of soaring coastal ridges that border the Pacific Ocean, Flowers' Estate Vineyards were some of the first planted on the "extreme" Sonoma Coast in 1991. Flowers' Vineyards rise up just two miles from the rugged Pacific Ocean cliffs at elevations of 1,150 to 1,875 feet. The cool maritime breezes and coastal fog cool the vineyards during the heat of summer allowing fruit to fully mature with fresh, complex flavors and lively acidity. These ancient rocks and weathered soils help to control vine vigor on our estate and create wines of depth with bright fruit, complexity and distinctive coastal minerality characteristics – wines that reflect a true "sense of place."
June – Penfolds
Vintner Dinner: Thursday, June 12 and Friday, June 13
An historic producer, Penfolds was established by Dr. Christopher Rawson Penfold and his wife Mary at Magill Estate just outside Adelaide, Australia in 1844. Dr. Penfold, a medical practitioner, prescribed fortified wines for patients with anemia. Whilst Dr. Penfold built up his medical practice, Mary was responsible for the management of the winery. Much of the early successes and expansion of the fledging winery can be attributed to Mary Penfolds. In the 1940's and 1950's to accommodate changing tastes the company redirected its focus to table wines. The development of Grange Hermitage by winemaker Max Schubert during the 1950's not only led to an emerging portfolio of famous wines, but also a way of thinking that permeated the entire Australian wine industry. Throughout their 165 year history, Penfolds has established themselves as one of the world's great wineries, renowned for producing wines of the utmost quality across a comprehensive portfolio.
ENO Tasting Series
Every Friday from 4 to 6 p.m., and Saturday and Sunday from 3 to 6 p.m., a Wine Educator from the featured winery presents and educates guests about the latest wines in its portfolio. Tasting fees ranges from $25 to $40 per person, based upon the vintner. Visitors can also choose to elevate their tasting experience with flights of hand-selected cheeses and chocolates from ENO for an additional fee.
Vintner Dinner in Navio
Navio Chef Kevin Tanaka presents a four-course vintner dinner in Navio. Collaborating with the wine maker, Chef Tanaka designs a menu that highlights the wine selections and pays tribute to Navio's coastal cuisine. Vintner Dinners, held the second Thursday and Friday of each month, are $125 per person and include a signed bottle of wine from the vintner, as well as two complimentary passes to enjoy a tasting at the winery.
# # #
About The Ritz-Carlton, Half Moon Bay
Situated 23 miles southwest of the San Francisco International Airport, The Ritz-Carlton, Half Moon Bay is a 261-room destination spa and golf coastal resort and the San Francisco Bay Area's only oceanfront resort. Set atop a rugged bluff overlooking 50 miles of pristine California coastline, the timeless oceanfront estate provides guests with a relaxed yet refined experience, whether for a romantic getaway, meeting or special event. For more information on fall activities, please contact The Ritz-Carlton, Half Moon Bay at 650-712-7000. For room reservations, contact your travel professional, visit http://www.ritzcarlton.com/hmb or call Ritz-Carlton worldwide reservations at 800-241-3333. Visit http://www.experiencehalfmoonbay.com to learn more about the destination.
About The Ritz-Carlton Hotel Company, L.L.C.
The Ritz-Carlton Hotel Company, L.L.C., of Chevy Chase, Md., currently operates 85 hotels in the Americas, Europe, Asia, the Middle East, Africa, and the Caribbean. More than 30 hotel and residential projects are under development around the globe. The Ritz-Carlton is the only service company to have twice earned the prestigious Malcolm Baldrige National Quality Award, an award that originated in 1987. Its purpose is to promote the awareness of quality excellence, recognize quality achievements of companies and publicize successful quality strategies. The Ritz-Carlton Hotel Company won the award in 1992 and 1999. For more information, or reservations, contact a travel professional, call toll free in the U.S. 1-800-241-3333, or visit the company web site at http://www.ritzcarlton.com. The Ritz-Carlton Hotel Company, L.L.C. is a wholly-owned subsidiary of Marriott International, Inc. (NASDAQ:MAR).