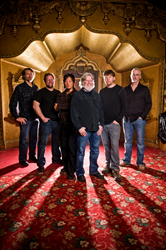 "Bluegrass has a way of inspiring imagination," said band member Michael Kang.
Ontario, CA (PRWEB) April 02, 2014
The String Cheese Incident, a popular independent band that brings a mix of bluegrass, Latin fusion and psychedelic sounds to its highly attended performances, will be playing this June at Southern California's Huck Finn Jubilee, organizers announced today.
The band joins traditional bluegrass headliners such as Dr. Ralph Stanley, The Del McCoury Band, Sam Bush, Rhonda Vincent, and Junior Sisk & Ramblers Choice at the Huck Finn Jubilee June 13-15 at Cucamonga-Guasti Regional Park in Ontario, Calif. Other performers announced for this year's festival include Keller Williams and The Travelin' McCourys, who often perform at events together throughout the year.
Dubbed SCI by the band's loyal fans, The String Cheese Incident is a frequent performer at Telluride, Colorado, where the group got started. A forward-thinking band of acoustic musicians at the core, they use a blend of genres and amplification techniques to add depth and variety to their music.
It was the touching history and tradition of Huck Finn Jubilee and its commitment to expanding bluegrass into new audiences in California that persuaded SCI to perform at this year's event.
"Bluegrass has a way of inspiring imagination," said band member Michael Kang. "It inspired a California family 37 years ago to dedicate their lives to putting on this annual event. It inspired us as a band to push the progressive limits of the traditional elements of the music, and we hope to continue the tradition this June by inspiring new audiences to love bluegrass and to grow from it as much as we do."
The Greater Ontario Convention and Visitors Bureau, which assumed ownership of the festival this year, is committed to providing a music feast filled with the best traditional bluegrass musicians on tour today, and to infuse new twists and interpretations of the music to draw in new audiences and to raise awareness of bluegrass everywhere.
"Our goal is to make Huck Finn the West Coast's ultimate bluegrass festival," said Michael Krouse, President and CEO of the Greater Ontario CVB. "We are honored to have The String Cheese Incident support our vision in taking bluegrass to the next level in California."
Due to release on April 29, "Song in My Head" -- their first studio album in nine years -- SCI is internationally known for its elaborate concert exploits, a die-hard dedication to its fans, and innovation and diversity in its music, which is richly inspired by bluegrass.
Tickets to their performances usually run about $50, but are available through Huck Finn Jubilee for just $35 for an entire day of world-class music. For information and ticket sales, visit http://www.huckfinn.com.
Huck Finn Jubilee is an annual three-day celebration featuring bluegrass and country-themed music, old time activities and contests, a jammer's campground, fishing, camping, raft-building, living history displays and more. Held every Father's Day weekend in Ontario, Calif., it is billed as one of the largest bluegrass festivals of its kind west of the Mississippi, drawing visitors from throughout the United States.
About the Greater Ontario Convention and Visitors Bureau
The Greater Ontario Convention and Visitors Bureau provides groups and meeting professionals with an unbiased, comprehensive resource when booking a tour, convention, meeting or event within the cities of Ontario and Rancho Cucamonga, Calif. Ideal for both leisure and business travel, the region boasts scenic mountains, deserts, vineyards and metropolitan areas that are both historic and cosmopolitan in character. For meeting needs of all sizes – from a conference room to a citywide convention utilizing the Ontario Convention Center – or for a special exposition or sporting event, the Greater Ontario Convention and Visitors Bureau will provide the necessary destination support tools to execute a successful experience. Visit http://www.discoverontariocalifornia.org.