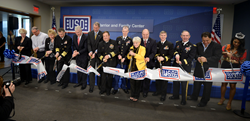 It is hard to capture in words what a center like this means to recovering warriors and their families… This is more than just nice to have; it is an essential part of recovery- Vice Chairman of the Joint Chiefs of Staff, Admiral James A. Winnefeld, Jr.
Bethesda, MD (PRWEB) April 01, 2014
Today the USO opened the doors to the future of supporting our troops and their families, with a ribbon-cutting ceremony for its second Warrior and Family Center in the United States. The new center, more than 16,000 square feet, is located on the campus of Naval Support Activity Bethesda, home of Walter Reed National Military Medical Center. It is the newest of the USO's more than 160 locations worldwide that provide services that support our nation's troops, their families, wounded troops and their caregivers with both resilience and reintegration.
In a small private ceremony Monday, the USO Warrior and Family Center at Bethesda was dedicated in honor of Prescott S. Bush, for his vision, leadership and extraordinary USO fundraising efforts from 1942-1946. Mr. Bush, the father of former President George Herbert Walker Bush and grandfather of former President George W. Bush, raised more money for USO projects and programs, nationally and internationally, than any other campaign in USO history.
Mr. Bush chaired the USO National Campaign during World War II, helping raise $34 million in 1942, his first year at the helm. He led four campaign efforts to raise money for the National War Fund, from which the USO benefited. All told, Bush helped raise more than $210 million for the USO, which is equivalent to nearly $2.6 billion in purchasing power today.
A portrait in the round of Prescott S. Bush was unveiled by former President George W. Bush during the dedication ceremony. Several members of the Bush family attended the event, including Nancy Walker Bush Ellis, daughter of Prescott Bush, former First Lady Laura Bush, and Dorothy Bush Koch.
"It's an amazing country that produces two million people who volunteer to face danger. To be able to look men and women in the eye and be able to say thank you, and to return their salute, is a huge honor. If someone volunteers to defend our nation and serve a just cause, then our nation owes them everything," said former President George W. Bush. "Vets today are being welcomed home with open arms and the USO has done a fabulous job of being part of those arms that are opened. We thank you for honoring the best of our country."
The USO center joins the already robust military community of care at Bethesda and was inaugurated today by USO leadership and partners including generous donors, senior military and celebrity guests including Nina Davuluri, Miss America 2014, Chef Robert Irvine, and Daniel Rodriguez, America's Beloved Tenor.
Captain David A. Bitonti, United States Navy, is Commanding Officer, Naval Support Activity (NSA) Bethesda and said the USO Warrior and Family Center at Bethesda will enhance the 360-degree care and support of service members and their families.
"It will serve as a place of respite, allow them to recharge their battery both mentally and physically and be energized for the next day, whether that next day brings a series of appointments or therapy, service as a healthcare provider or nonmedical attendant, or working as support staff assisting the mission of the installation tenants, everyone needs that time, that break away," explained Bitonti. "This is a key part of the resiliency effort in order to maintain the mission, whether that mission is to heal and provide care and support or assist in transition."
"The Naval Support Activity Bethesda has proven to be an amazing host and we look forward to working together to make every moment count," said Brig. Gen. (Ret.) John I. Pray, Jr., USO President and CEO. "This USO center was created with partnership in mind and we flourish when we combine our skills with others. That is the essence of this place. It will never be about the USO, or about who delivers what, when. It will always be about what's best for our troops and military families, especially those that are making the transition to civilian life. Hope and confidence will be renewed here. Strength and resilience will be at the core of everything we deliver."
More than 40,000 troops have been visibly wounded in the conflicts in Iraq and Afghanistan, and some estimate more than 300,000 troops are living with invisible wounds, such as post-traumatic stress disorder or traumatic brain injury. The USO Warrior and Family Center at Bethesda was built to be an important part of the recovery process for these wounded troops and their families. The USO supports troops through every phase of their service, from the moment they join, through their deployments and as they transition back to their communities.
"It is hard to capture in words what a center like this means to recovering warriors and their families who are on such a roller coaster of almost every emotion in the human inventory," said Vice Chairman of the Joint Chiefs of Staff, Admiral James A. Winnefeld, Jr. "To be able to get away in the midst of it all - to such a beautiful, peaceful and comfortable place right here on campus. This is more than just nice to have; it is an essential part of recovery."
The USO Warrior and Family Center at Bethesda is strategically located adjacent to the wounded warrior barracks, known as Tranquility Hall, making it more convenient for wounded, ill and injured troops and their families to get support during their recovery process. Although the USO Warrior and Family Center is not a medical facility, it will be a critical part of the healing process.
USO of Metropolitan Washington-Baltimore staff will operate the center, with additional support from hundreds of dedicated volunteers. The new center will allow the experienced staff and volunteers of the USO of Metropolitan Washington-Baltimore to increase the level of support that they have been providing to NSA Bethesda and the entire DC, Maryland and Virginia region for more than a decade.
"This center would not be able to be manned every day if it were not for our USO volunteers," said Elaine Rogers, President and CEO, USO Metropolitan Washington-Baltimore. "They are the life blood of this organization and we have 200 of the most caring and committed volunteers in this region that will be manning this facility 365 days a year. It's a gift we can never ever replace."
The design and operation of the building — along with the programs and activities that transpire on its grounds — will promote healing by enabling connections to nature, a sense of place, art and music and community support. The center is strategically organized into zones to focus on three areas: recreation and normalcy, respite, as well as education and work.
Sergeant Nathan Toews (Ret.), who was severely injured while in his second deployment in Afghanistan, shared today how the USO helped him throughout his rehabilitation.
"It wasn't until after I was injured that I really learned what the USO is capable of. They were there every step of the way, to make sure my recovery was successful. The reality is that while recovering at Walter Reed, there were three things that made up my day -- learning to deal with my injuries, going to rehab and crippling boredom. Honestly, sometimes boredom was the hardest thing to deal with… that's where the USO stepped in," remembered Toews. "They brought in opportunities for us to focus on other things. Give us things to do to unwind, relax and find enjoyment during trying times."
Like its sister center, the 20,000 square foot USO Warrior and Family Center at Fort Belvoir, which opened in February 2013, the Bethesda center will be an important structure to help build hope, resiliency and confidence in the lives of wounded troops and their families, on the challenging journey toward recovery. To date the Belvoir center has had more than 125,000 visits by troops and families and has supported special events with noteworthy individuals including the First Lady Michelle Obama, celebrities, sports stars and famous chefs and has created many unforgettable moments including concerts, weddings, baby showers, ceremonies, career transition events.
For more information about the USO Warrior and Family Center at Bethesda, press kit, images, as well as b-roll and sound bites from the ribbon cutting ceremony please click here.
# # #
About the USO
The USO lifts the spirits of America's troops and their families millions of times each year at hundreds of places worldwide. We provide a touch of home through centers at airports and military bases in the U.S. and abroad, top quality entertainment and innovative programs and services. We also provide critical support to those who need us most, including forward-deployed troops, military families, wounded warriors, troops in transition and families of the fallen. The USO is a private, non-profit organization, not a government agency. Our programs and services are made possible by the American people, support of our corporate partners and the dedication of our volunteers and staff.
In addition to individual donors and corporate sponsors, the USO is supported by President's Circle Partners: American Airlines, AT&T, BNSF Railway, The Coca-Cola Company, Grand Canyon University, JCPenney, Jeep, Johnson & Johnson, Kroger, Northrop Grumman Corporation and TriWest Healthcare Alliance and Worldwide Strategic Partners: BAE Systems, BIC, The Boeing Company, ConAgra Foods, FedEx, Lockheed Martin, Microsoft Corporation, Procter & Gamble, TKS Telepost Kabel-Service Kaiserslautern GmbH & Co. KG and Wawa Inc. We are also supported through the United Way and Combined Federal Campaign (CFC-11381). To join us in this patriotic mission, and to learn more about the USO, please visit uso.org.
About USO of Metropolitan Washington-Baltimore
USO-Metro is a nonprofit 501(c)(3) organization chartered by Congress, and dedicated to "Serving those who serve, and their families" in the Washington-Baltimore region. It is through the generous financial support of individuals and organizations in the local community that USO-Metro is able to fulfill its mission. With the help of nearly 5,000 devoted volunteers, USO-Metro provides programs and services for active duty troops and their families at area military hospitals; through its Mobile USO program; at six USO Centers, and four USO airport lounges. For more information please visit http://www.USOMetro.org or like us on Facebook and follow us on Twitter by searching USOMetroDC.
About Walter Reed Bethesda
Walter Reed Bethesda, the world's largest military medical center, located on 243 acres, with more than 2.4 million square feet of clinical space, provides care and services to over 1 million beneficiaries per year.
STATISTICS:

243 Acres
274 Total Beds
13,024 admissions less births (2013)
1,403 Total Births (2013)
202 Average Daily Census (2013)
4.76 Days Average Length of Stay (2013)
28,072 Total Emergency Department Visits (2013)
7,000 Total Staff Members
WRNMMC's primary mission is to ensure the readiness of and provide care for the Uniformed Services and their families. WRNMMC also provides care for the President and Vice-President of the United States, Members of Congress, and Justices of the Supreme Court. In addition, when authorized, WRNMMC provides care for foreign military and embassy personnel.