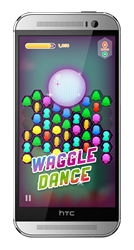 The unique board makes for a more challenging, compelling experience. Disco Bees players have to think differently - our users love that.
New York, NY (PRWEB) April 02, 2014
Disco Bees, the match-three hexagonal puzzle game from indie game studio, Space Inch, waggled its way onto Google Play today. On the heels of reaching one million iOS downloads, the creators of Disco Bees introduce the only major hexagonal match-three puzzle game to an expanded swarm of Android users.
"We're confident that users will instantly beecome addicted to the Android version," said Josh Segall, co-founder of Space Inch. "Our hexagonal design allows users to move each piece in six directions instead of four like traditional puzzle match games. The unique board makes for a more challenging, compelling experience. Disco Bees players have to think differently - our users love that."
The premise of Disco Bees is simple: swap colored bumblebees on a hexagonal grid to match three or more in order to "save the hive!" Collect honey and move pollen to continue the circle of bee life, duh. Plus, users can look forward to the beedazzling puns and animated waggle dancing after completing each of the 159 levels in nine worlds. And in case you are wondering, bees do indeed waggle.
First released on iOS October 17, 2013, Disco Bees has been creeping up the highest grossing charts and now boasts over 130,000 daily and 400,000 monthly active users.
Steve Harris of Talgarth, Wales, is one of many fans who have been anticipating an Android release for months. "The game is fantastic and very addictive. All my friends have Android (LOL) so I've been waiting for this release for months. I love the hexagons, I love the music, I love this game!"
The game's popularity is due in part to a distinct aesthetic style. Despite being one of the most successful genres in mobile gaming, puzzle gaming is rife with UX that is cloying and childish or modern but too spare and lacking in warmth. Disco Bees is graphically beautiful but also has warmth, cuteness, depth, humor, and a highly tuned tactile experience.
The team is kind of awesome, too. Disco Bees is what happens when an architect, a criminal lawyer, and a Grammy-winning rock guitarist start a tiny, self-funded indie studio. Ari Kardasis, one of the game's two lead coders, drew inspiration for the game board from his master's thesis at Princeton on hexagon tiling. Andy Ross, the other lead coder, arranged the beeloved and beeautiful soundtrack.
Disco Bees is available now on Google Play for free! If you haven't picked up the iOS version, you can grab it from the iTunes app store, also at no charge.
###
About Space Inch LLC
Founded in 2010, Space Inch is three college friends, Andy Ross, Ari Kardasis, and Josh Segall, turned tiny, indie game studio taking on the big boys. The three friends and a fourth FTE team member produced Disco Bees in just four months. The studio's first game, Say the Same Thing, was one of Apple's Best Games of 2013 and runner up for "Game of the Year" in Turkey, India and Russia. For more information on the bunch, check them out at discobeesgame.com or @discobees.