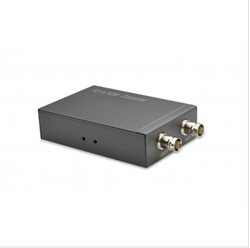 (PRWEB) April 02, 2014
Recently, Hiconn Electronics, a famous electronics accessory manufacturer in the global market, has proudly announced its new series of SDI to HDMI Converters for worldwide customers. Besides, these new converters are available at discounted prices at the company's website.
As one of the most popular suppliers, Hiconn Electronics insists on providing high quality electronics accessories at acceptable prices. Nothing is more important than cost-effective equipment for a distributor. The company understands that and keeps working hard to create more useful and cheap items. It has thousands of items in stock; each of them features nice looks, great performance and durable materials.
The followings are some details about the company new designs of SDI to HDMI Converters:
--SDI > HDMI Converter
--Mounting brackets and screws
--Power supply
--User Manual
--Supported data rate: 270 Mb/s ~ 2.97 Gb/s
--Supports 8 channels of 48 kHz audio (PCM)
--Robust metal housing
--Power consumption: max. 2.5 W
--Dimensions (LxWxH): ca. 100 x 70 x 25 mm
Hiconn Electronics's website is always a good platform for worldwide clients to get excellent electronics accessories. According to the sales representative of the company, shopping at its online store is an enjoyable experience. At its website, customers can find the company's latest promotions and its newest products.
About Hiconn Electronics
Hiconn Electronics (Shenzhen Hiconn Electronics Co. Ltd.) is devoted to designing and manufacturing a wide range of connection cables and customized cable assemblies, offering many HDMI cables, VGA cables, SATA cables, USB cables, 1394 cables, DVI cables, SCSI (Small Computer System Interface) and more. For more information, please visit http://www.hiconn.net/.
Contact Person: James Yin (Sales Director)
Company Name: Shenzhen Hiconn Electronics Co., Ltd.
Address: Shenghua Building., Xixiang Road., Baoan District, Shenzhen, Guangdong Province, China
Zip Code: 518102
Tel: +86-755-8109 8345
Fax:+86-755-2779 3497