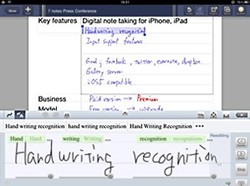 mazec handwriting recognition boasts lightning fast character recognition and batch text conversion
Palo Alto, CA (PRWEB) April 02, 2014
Not all handwriting recognition apps are created equal. MetaMoji's add-on module for their award-winning apps Note Anytime and Share Anytime (called mazec) boasts lightning fast character recognition and batch text conversion. With just one click, anything handwritten can be converted into typed text. Users with poor handwriting will appreciate the ease and speed the handwriting recognition provides for note taking in meetings and on the go.
Handwriting recognition in both Note Anytime and Share Anytime includes:
LIGHTNING FAST HANDWRITING RECOGNITION
Users can avoid the keyboard completely, knowing they can convert handwriting into digital typed text within and outside text boxes, either on the fly or as a batch later.
STROKE INPUT TECHNOLOGY WITH SMOOTH INKING will help users with poor penmanship write faster and more legibly on the small keyboards of their mobile devices. When used in combination with the calligraphy pens (provided by both apps), the results will be even smoother. With this feature, anyone can have beautiful and legible handwriting.
PREDICTIVE TEXT COVERING 13 LANGUAGES –mazec's powerful predictive text engine will surprise users with its accuracy in guessing words they are writing. The text engine comes preloaded with semantic intelligence, including popular phraseology and technical terminology in each language. Spelling errors are also corrected in real time.
The mazec handwriting recognition feature offers four convenient modes: Convert, Stroke, Keyboard and Convert later as a batch. In Convert mode, handwriting is automatically converted into text (one word at a time or a full sentence) and alternative words are offered to speed up the process. In Stroke mode, handwriting is inserted as freehand text in the document. The Keyboard mode, allows users to quickly type and add unusual words, URLs or email addresses that are not yet part of the mazec dictionary and build its content. One of the most popular features is the Convert later mode. With it, users can handwrite an entire document and later on convert it to typed text.
On Android, the mazec handwriting recognition engine is available as a separate add-on to Note Anytime but its capabilities extends beyond Note Anytime to any app on the device where typing is required, making it an ideal tool to complement for posting on Facebook, twitter, or replying to emails.
Download information:
Note Anytime or Share Anytime for iOS –
The handwriting recognition feature is available from 13 languages for purchase from the in-app store for $7.99. Click on the Info icon, select "Add-on Store" preceded by a little shopping cart, scroll to the second option and click on Handwriting Recognition Add-On.
Note Anytime or Share Anytime for Windows, mazec is available in English and Japanese and can be purchased from the in-app add-on store for $7.99.
Note Anytime or Share Anytime for Android -
Mazec is a separate app and can be purchased as a plugin for $1.86 for a limited time (normally $7.99)
Join MetaMoJi Corporation on Social Media
Facebook fan page: https://www.facebook.com/NoteAnytime
Twitter handle: NoteAnytime