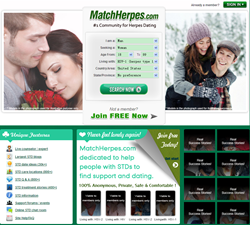 You are not alone!
(PRWEB) April 11, 2014
April is Sexually Transmitted Disease Awareness Month and Match Herpes is dedicated to serve people living with herpes, HPV, HIV/AIDs or other STD. CDC estimates that, annually 776,000 people in the United States get new herpes infections. Over 110 million people are living with STDs in the U.S. alone, as well as an estimated 400 million people worldwide. Nationwide, 16.2%, or about one out of six, people aged 14 to 49 years have genital HSV-2 infection. Over the past decade, the percentage of persons with genital herpes infection in the United States has remained stable. To raise the public awareness of STDs could help prevent and control the spread of these viruses.
Founded on 2001, MatchHerpes has serviced the Herpes dating world for over a decade with no ads, no pop ups, no annoying banners- just friendly, high quality members with STDs gathering to find a talk, support and dating. A deep understanding of people with STDs and their wants and needs is at the heart of MatchHerpes's business model; this is why the site has become extremely popular and indexed by many popular Herpes dating sites.
What makes it a popular herpes dating site?
1. It is a completely anonymous dating site for herpes singles.
2. It is a warm-hearted and exclusive community where herpes singles can meet new friends or get herpes support.
3. Registration is swift, simple, secure and most importantly, completely free of charge.
4. Members can learn about herpes medical information and treatments, help and advice.
5. Members can search profiles posted on the site using the great simple-search function.
6. Members can send winks and post comments without limitation.
7. Members can have online live chat with other singles using the online live chat function.
8. Members can create blogs to get to know others a little better and get involved in Internet-blogging, a fantastic new communication craze online.
9. Members can choose open private album to the exact user if they are interested in someone
10. "All profiles are manually screened, no scammer, no spammer!" states the About page, which also boasts hosting 15,000 or more daily active members.
Until now, Match Herpes has achieved over 1,500 success Stories and more than 1300 STD Inspirational Stories. It's amazing! This site connects people living with Herpes, HIV, HPV or other STD together in a safe and private place. Thousands of members appreciate it for meeting their life partner here.
To learn more about it, please visit http://www.MatchHerpes.com.