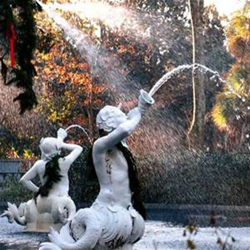 Visitors continue to say - Savannah and Lowcountry welcomes its tourists with the utmost hospitality.
Savannah, Georgia (PRWEB) April 03, 2014
Forsyth Park Inn has complied a list of some of the top activities, events, and places that make Savannah, Georgia and The Lowcountry area one of the Nation's best destinations for 2014 summertime getaways:
1. History preserved...tours, architecture, and historic cemeteries all expose the dramatic stories that make up the South's history. Visitors have the opportunity to walk alongside knowledgeable tour-guides and soak in the stories of how Oglethorpe named the 13th colony Georgia, after King George II, and Savannah became the first city...or how native Americans may have lived in Beaufort, SC as early as 4000BC.
2. Coastal adventures...with so many options from Tybee Island beaches and intercostal ways to river paths and rich marshes people are immersed in nature at its finest. Savannah's Riverboat Cruise is a spectacular way to relax on the water, and the Lowcountry Paddle Tours are the best way to capture hidden ecosystems.
3. Festivals...Cities like Savannah, Hilton Head Island, Bluffton and more all host lively annual festivals during the summer months attracting locals and visitors alike. The Lowcountry is known for creating festivals to celebrate everything from seasonal foods to culture and arts. Some of the not-to-be-missed festivals include: A Taste of Beaufort, SCAD's Sidewalk Arts Festival, The 6th Annual Hilton Head Island Arts Fest, and the 36th Annual Bluffton Village Festival
4. Outdoor drinking and dining...Summertime and sunshine go hand in hand with Southern BBQ served outdoors, sweet tea with lemons, and Lowcountry seafood boils! Some of the South's most mouthwatering dining spots are found in Savannah, GA and the Lowcountry. Visitors might try: Bonna Bella's Yacht Club in Savannah or AJ's Dockside on Tybee Island. The options are endless!
Whatever it is that brings visitors to the beautiful Southeastern Coast they will never be disappointed. The area is gaining more vacationers simply because there are so many ways to experience it and there is simply nothing like it anywhere else. Time and time again visitors continue to say - Savannah and Lowcountry welcomes its tourists with the utmost hospitality. Visitors experience deep tradition and rich culture like no other in the South's great hostess cities.
For more information about Savannah bed & breakfast getaways and Lowcountry stays, as well as, seasonal summertime vacation deals and packages contact the Forsyth Park Inn to plan your relaxing getaway in one of the South's greatest hostess cities.
Forsyth Park Inn 912.233.6800.
innkeeper(at)forsythparkinn(dot)com