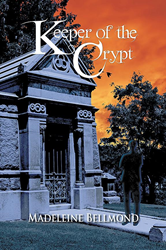 (PRWEB) April 03, 2014
Luckily, Vladi has his faithful personal assistant along to smooth out any problems. Rodney Priddle is just an average small town guy from Beavertooth, Saskatchewan. He accepts the job of keeping the count out of trouble, as he becomes Keeper of the Crypt. Predictably, when things hit a snag in Vegas, what happens there, doesn't stay there!
Things go from bad to worse in Charleston, South Carolina, where Rodney falls for a Southern belle and the count has his heart broken. (Perhaps he took necking a little too far?) Whatever the case, will their friendship prove to be thicker than blood?
KEEPER OF THE CRYPT (ISBN: 978-1-62516-341-7) is now available for $16.95 and can be ordered through the publisher's website:
http://sbprabooks.com/MadeleineBellmond or at www(dot)amazon(dot)com or www(dot)barnesandnoble(dot)com.
WHOLESALERS: This book is distributed by Ingram Books and other wholesale distributors. Contact your representative with the ISBN for purchase. Wholesale purchase for retailers, universities, libraries, and other organizations is also available through the publisher; please email bookorder(at)aeg-online-store(dot)com
About the Author: Madeleine Bellmond is from Alberta, Canada. "Keeper of the Crypt" is her first published novel. The author is also an artist, and has won recognition for her unique fabric art. In the past few years, her first love of writing resurfaced with a vengeance, and she is now happily creating with words.
Strategic Book Publishing and Rights Co, LLC