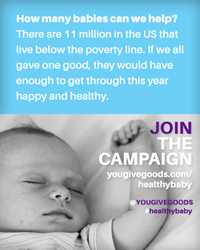 Families are forced to make compromises, often resulting in the dangerous act of watering down baby food and using diapers for days rather than hours.
Mendham, NJ (PRWEB) April 03, 2014
According to the National Center for Children in Poverty, there are approximately 11 million infants and toddlers living in low-income families in the United States. 3 million living in poverty. Almost all are facing multiple threats that will negatively impact their adult lives. YouGiveGoods.com is fighting back. Through their unique online supplies campaign, they are asking readers to give not money, but baby-related supplies. To make a donation today: http://www.yougivegoods.com/healthybaby.
The Federal poverty line for a family of two in 2012 was $15,130. There are three Federal programs to help with infant nutrition, but none cover items such as diapers. Families are forced to make compromises, often resulting in the dangerous act of watering down baby food and using diapers for days rather than hours. Infants will often spend more than 100 days per year ill. Recent studies evidence the stress of the lifestyle will likely cause a diminished capacity to learn and twice the likelihood of developing arthritis and hypertension by the age of 30.
YouGiveGoods is fighting back with a series of virtual supply and food drives for 10 different nonprofits, calling it the Healthy Baby Online Supplies Campaign. Readers are invited to access the campaign at http://www.yougivegoods.com/healthybaby and donate by first choosing a nonprofit to support; and then buying the supplies they deem most important. YouGiveGoods will handle all delivery logistics after the close of the campaign. Donations are tax deductible and a receipt will be provided upon delivery of goods. This is not a cash donation, but new, unused items.
A look at the products organizations such as Eva's Village and Jersey Battered Women's Service are requesting creates a harrowing picture. Along with every type of diaper and canned baby food are baby wipes, lotion and medicated diaper ointment. The very basics required for infant and toddler cleanliness and health. Both nonprofits report these items are difficult to keep in stock with the need far outweighing the supply.
Other nonprofits taking part in the Campaign include the Food Bank of Delaware, Family Promise of Morris County, St. James Social Services, Akron-Canton Regional Foodbank, City Harvest, The Center for Food Action, Salvation Army of New Jersey and Island Harvest. Though the campaign has already started, YouGiveGoods invites other nonprofits and volunteers to join in at any time. The virtual drives are easy to set up and YouGiveGoods staff is more than willing to even do it for you. The company is also providing marketing help and support for those unsure how to reach out to their communities for donations.
YouGiveGoods.com is a Mendham, NJ based, woman-owned company that provides a complete virtual supply and food drive solution to nonprofits and their volunteers. Since 2012, YouGiveGoods has managed more than 3000 virtual drives and delivered more than 500,000 pounds of goods. For more information on YouGiveGoods, please visit http://www.yougivegoods.com or email inquiry(at)yougivegoods(dot)com.