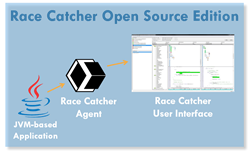 This is a great way for a customer to experience the advantages of using Race Catcher in development, test and production.
Saratoga, CA (PRWEB) April 03, 2014
Thinking Software, provider of the industry-leading solution for finding concurrency defects in multi-threaded JVM applications, announced that it has joined the HP Public Cloud partner marketplace.
https://marketplace.hpcloud.com/partner/thinking-software
Thinking Software created Race Catcher to help software developers, vendors and testers find race conditions and deadlocks in Java and JVM-based applications. Now HP Public Cloud customers can include Race Catcher at the time the virtual machine is provisioned. Race Catcher is a natural choice for any Java development, test or production environment.
https://marketplace.hpcloud.com/sum4jvm
Race Catcher can be used immediately, without charge, for the purpose of analyzing open-source software. To analyze and monitor proprietary application code, the customer can purchase a Race Catcher license within seconds after taking delivery of the machine.
This is a great way for a customer to set up a development or test environment with a minimum of capital investment. It's also a great way to experience the advantages of using Race Catcher, and make these findings available to your technical staff worldwide.
Scaling up, a customer can set up an entire production infrastructure on HP Cloud, composed of machines equipped with Race Catcher. The overhead of Race Catcher is so low that you can deploy all your JVM-based applications to production in a SUM-enabled state, so that all instances of the application are constantly monitored for race conditions and deadlocks.
Using the bundled new Concurrency Analysis Service and Code Modeling Service, an engineer working at a headquarters location can monitor the reliability of any number of locally or remotely deployed application instances equipped with the Race Catcher agent. This is the best way to maximize the quality and reliability of applications run by JVM.
About Thinking Software, Inc.
Thinking Software, Inc. provides dynamic code analysis tools based on the Software Understanding Machine® (SUM) to help software developers and integrators find elusive bugs due to race conditions and deadlocks, during the development phase and after deployment. The tools are targeted at Java and more than two dozen other JVM-based languages, including Java, Scala, JRuby, and Jython.
Contact Information
contact(at)ThinkingSoftware(dot)com
http://www.thinkingsoftware.com/
(408) 486-9900