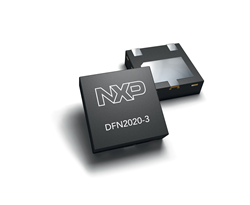 Eindhoven, Netherlands and Hamburg, Germany (PRWEB) April 03, 2014
NXP Semiconductors N.V. (NASDAQ: NXPI), today announced a new series of six transient voltage suppressor (TVS) diodes housed in the small, leadless plastic package DFN2020-3 (2 x 2 mm) with a height of only 0.62 mm. The new PTVSxU1UPA product series offers a 300 W peak pulse power rating (10/1000µs) and reverse stand-off voltages from 7.5 to 26 V.
The new AEC-Q101 qualified PTVSxU1UPA series is ideally suited to protect voltage-sensitive components against transient voltage in various applications, such as the charger port in mobile devices.
Surge pulses from the power supply, for example via a car charger, are a severe threat for the charger port VBUS line of smart phones and other portables. Standard ESD protection devices are no longer sufficient to protect application circuits from damage, and as a result, devices with higher surge robustness are required.
The low leakage current of only 1 nA reduces the power consumption and helps extending the battery lifetime. Housed in a small leadless DFN2020 package it is ideally suited to products such as mobile phones and notebooks where space is a constraint.
"Mobile devices, such as smartphones, e-readers, tablets and even wearable technology is decreasing in size and there is strong demand for space-saving solutions. This new TVS series addresses the increasing requirements for higher surge robustness for charger ports. With its very small and leadless DFN2020-3 package, it is ideally suited for these mobile devices." says Henning Riedel, product marketing manager, NXP Semiconductors.
This discrete solution offers superior electrical performance, a higher PCB design flexibility and easier routing than the array of integrated solutions currently available.
Availability
The new 300W-TVS diodes are available immediately in high-volume production, including product types PTVS7V5U1UPA, PTVS10VU1UPA, PTVS12VU1UPA, PTVS15VU1UPA, PTVS18VU1UPA, and PTVS26VU1UPA.
Links

About NXP Semiconductors
NXP Semiconductors N.V. (NASDAQ: NXPI) creates solutions that enable secure connections for a smarter world. Building on its expertise in High Performance Mixed Signal electronics, NXP is driving innovation in the automotive, identification and mobile industries, and in application areas including wireless infrastructure, lighting, healthcare, industrial, consumer tech and computing. NXP has operations in more than 25 countries, and posted revenue of $4.82 billion in 2013. Find out more at http://www.nxp.com.
ENDS
Forward-looking Statements
This document includes forward-looking statements which include statements regarding NXP's business strategy, financial condition, results of operations and market data, as well as other statements that are not historical facts. By their nature, forward-looking statements are subject to numerous factors, risks and uncertainties that could cause actual outcomes and results to be materially different from those projected. Readers are cautioned not to place undue reliance on these forward-looking statements. Except for any ongoing obligation to disclose material information as required by the United States federal securities laws, NXP does not have any intention or obligation to publicly update or revise any forward-looking statements after NXP distributes this document, whether to reflect any future events or circumstances or otherwise. For a discussion of potential risks and uncertainties, please refer to the risk factors listed in NXP's SEC filings. Copies of NXP's SEC filings are available from the SEC website, http://www.sec.gov.