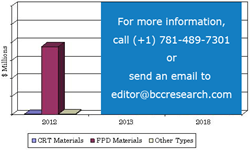 Wellesley, Mass., (PRWEB) April 03, 2014
BCC Research (http://www.bccresearch.com) reveals in its new report, Advanced Materials for Displays: Technologies and Global Markets, the global market for electronic display materials is expected to grow to $119.9 billion by 2018, with a five-year compound annual growth rate (CAGR) of 8.4%. Flat panel displays, the largest and fastest sector in the market, is moving at a CAGR of 8.1%.
The cathode ray tube (CRT), once the leading type of display has been replaced in most applications by flat panel display (FPD) technologies such as liquid crystal and plasma displays. The FPD segment is projected to account for 97.6% of the total display materials market 2018 and have an estimated value of $117 billion.
The CRT segment, which was valued at $214.1 million in 2013, is expected to decline to $1 million by 2018 and register a CAGR of -65.8%.
"CRT and rear projection displays have largely disappeared from the market and plasma's star appears to be fading," says BCC Research semiconductor analyst Andrew McWilliams. "Today, LCD displays dominate the market, but face growing competition from organic light emitting diode (OLED) and other new technologies, including flexible and transparent displays.
Advanced Materials for Displays: Technologies and Global Markets provides an overview of the electronics display materials market and the ways in which it influences the consumption of the different materials used to fabricate displays. Specific objectives of the report include segmenting and quantifying the display materials market in 2012 and analyzing its potential growth in the years through 2018. It also discusses recent technological developments and patent trends, and analyzing the economic, political, and legal/regulatory environment within which the display industry will evolve over the next five years.
This report is intended for glass manufacturers, phosphor suppliers, chemical companies, optical materials and equipment manufacturers, suppliers of coatings, deposition equipment manufacturers, manufacturers of micro-electromechanical system (MEMS) products, nanotechnology companies distributors of various materials and equipment. It will also interest suppliers of electronic industry materials.
Editors and reporters who wish to speak with the analyst, should contact Steven Cumming at steven.cumming(at)bccresearch(dot)com.
About BCC Research
BCC Research publishes market research reports that make organizations worldwide more profitable with intelligence that drives smart business decisions. These reports cover today's major industrial and technology sectors, including emerging markets. For more than 40 years we've helped customers identify new market opportunities with accurate and reliable data and insight. These include market sizing, forecasting, industry overviews, and identification of significant trends and key competitors. We partner with analysts who are experts in specific areas of industry and technology. Their up-to-date knowledge gives our customers unbiased measurements and assessments of these vital markets. Because our reports offer a global focus, our customers include the top companies in industries around the world as well as universities, major business schools, start-ups, consulting firms and investment companies. BCC Research is a unit of Eli Research LLC.
Data and analysis extracted from this press release must be accompanied by a statement identifying BCC Research LLC, 49-2 Walnut Park, Wellesley, MA 02481, Telephone: (+1) 781-489-7301; Email: editor(at)bccresearch(dot)com as the source and publisher. Thank you.