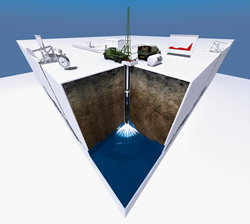 Houston, Texas (PRWEB) April 02, 2014
Propell Technologies Group (OTCQB:PROP), the exclusive US licensee of Plasma Pulse technology for enhanced oil recovery (EOR) today announced the settlement of approximately $576,000 in short-term, variably priced, convertible notes.
All convertible notes due Asher Enterprises and LG Capital Funding, and a portion of the notes due Gel Properties and JMJ Capital were paid by the company.
The notes were paid from the proceeds of the sale of $750,000 in Preferred Series B Shares at an issue price of $10.00 per preferred share, with each preferred share convertible into 100 common shares.
"The settlement and removal of these notes from our balance sheet eliminates potential downward pressure on our market value, which we believe will allow greater maneuverability in financing the accelerating commercial rollout of our enhanced oil recovery treatment," states John Huemoeller II, Chief Executive Officer. "It's part of an ongoing optimization of our financial plan, allowing us to fuel our growth with minimal dilution to shareholders."
It is the intention of management to continue to preempt conversion through repayment of short term convertible obligations in cash, rather than issue deeply discounted common shares.
ABOUT PROPELL TECHNOLOGIES GROUP
Propell Technologies Group, Inc. (http://www.propell.com/), through its wholly owned subsidiary Novas Energy USA, is the exclusive U.S licensee of the Plasma Pulse enhanced oil recovery (EOR) well treatment designed to improve production without acidization, hydro-fracking or other chemicals. It develops and commercializes treatment and stimulation of oil wells, which has been shown to meaningfully improve production and enhance the recovery of oil and gas in existing wells.
SAFE HARBOR
This press release includes forward-looking statements of our current expectations and projections about future events. In some cases forward-looking statements can be identified by terminology such as "may," "should," "potential," "continue," "expects," "anticipates," "intends," "plans," "believes," and similar expressions. These statements are based upon current beliefs, expectations and assumptions and are subject to a number of risks and uncertainties, many of which are difficult to predict and include statements regarding future financings, accelerating our commercial rollout, our growth and the results derived from use of our technology. The forward-looking statements are subject to risks and uncertainties that could cause actual results to differ materially from those set forth or implied by any forward-looking statements. Important factors that could cause actual results to differ materially from those reflected in our forward-looking statements include, among others, our ability to secure additional financings on attractive terms, fuel our growth and the other factors described in our on Form 10-K for the year ended December 31, 2012, and any other filings we may make with the SEC. The information in this press release is provided only as of the date written, and we undertake no obligation to update any forward-looking statements contained in this press release on account of new information, future events, or otherwise, except as required by law.