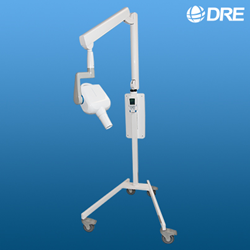 "We want to make the equipment updating process as easy as possible with good information and good products so veterinarians can focus on what they do best — serving the animals in their care." - Nathan Claypool, DRE Veterinary
Louisville, Ky. (PRWEB) April 03, 2014
DRE Veterinary — a new and professionally refurbished equipment supplier — is adding a new dental x-ray unit to its wide selection of veterinary dental equipment. The DRE RCX Digital Wireless Veterinary Dental X-Ray System is an easy-to-use unit that provides sharp images specifically meant for dental radiology procedures.
The DRE RCX's wireless system has tooth-specific preset functions, part of a system that seamlessly integrates with DRE Veterinary Digital Dental Sensors and other devices.
Veterinary professionals can take exposures at virtually any distance by utilizing the wireless remote. Kilovoltage and milli-amperes are automatically adjusted based on animal size and tooth type — specifically incisor, canine and premolar/molar.
Brightness of the exposure can be controlled by up-and-down buttons located on both the wireless remote and the apparatus itself.
The DRE RCX is available in a wall-mount configuration or on a portable stand for practices with mobile needs.
With an increasing importance being placed on dental health, one of the best ways to insure an animal stays happy and healthy is through the early detection of potential problems.
Using a good dental x-ray system can help veterinary professionals screen pets for early signs of tooth decay, bone diseases and infections before they start showing symptoms — when it is often too late to fully reverse the damage.
In fact, the benefits of intraoral radiography are being recognized by the state of Nevada, which recently began tightening its dental surgery requirements. Beginning in January 2014, new regulations mandate that dental operations be performed in facilities with adequate intraoral radiography capabilities.
Nathan Claypool, director of DRE Veterinary and Animal Sciences, said he is excited to offer this new product to his veterinarian customers.
"We're always looking for new equipment to help our customers stay current in today's changing industry," Claypool said. "We want to make the equipment updating process as easy as possible with good information and good products so veterinarians can focus on what they do best — serving the animals in their care."
Click here for more information on the DRE RCX Digital Wireless Veterinary Dental X-Ray System our full line-up of DRE Veterinary dental equipment, or call 1-800-979-6795 today.
About DRE Veterinary
For more than 25 years, DRE Veterinary has worked with many of North America's top veterinary facilities and organizations. They provide products and services that make sense, save their clients time and money, and allow veterinary surgeons to do the things they do best. DRE Veterinary is located in Louisville, Ky.