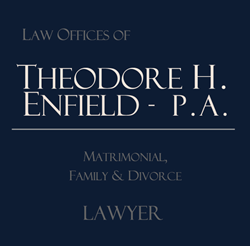 MIAMI, FL (PRWEB) April 03, 2014
A child custody battle can be a difficult situation for those involved. Parents are usually already emotionally and financially strained during a divorce and children are facing a future of living in a very different environment. If the adults do not agree on custody arrangements for their children, a child custody attorney can help handle the situation.
The child custody decision made by a court is based with the best interest of the children involved in mind. One parent is typically granted physical custody but shares legal custody with the other parent. Legal custody is the right to make decisions about important processes in the child's life such as health care, religion, and education. With a joint custody arrangement, children spend almost an equal amount of time with both parents.
Family law attorney T. Enfield announced today that he provides a complimentary Florida family law consultation explaining the impact divorce will have on them financially, in addition to the potential implications it may cause on the rest of their family. Enfield is also an expert on Florida child custody laws.
Before making any major decisions, Enfield encourages clients to first seek a consultation services to get a firm understanding what is expected and the potential expenses associated in filing any lawsuit.
Courts review several factors when considering how to grant custody. Apart from primarily considering the best interests of the child, the court may consider gender, medical history, and age, along with the physical and financial ability of the parent who may be providing living essentials.
Parties other than parents of the child, such as aunts, uncles, or grandparents, may want to receive custody. This is commonly called third-party or non-parental custody. Each state has its own procedures for handling this situation and the process involves the court. Theodore Enfield is familiar with Florida child custody laws to properly advise parties on their rights.
About the Law Offices of Theodore Enfield:
For over 30 years, the Law Firm of Theodore H. Enfield has helped hundreds of Florida families with different family law issues pertaining to divorce, domestic violence, prenuptial agreements, equitable property settlements, child custody, and child support.
With years of experience handling court cases and different family law scenarios, Enfield has built a reputation as the most trusted divorce lawyers in Miami
.
When meeting with individuals or couples seeking divorce, before any proceedings begin, the highly-experienced divorce attorney ensures his clients know exactly what to expect before they file.
To schedule a complimentary consultation or inquire about different family law services the Law Firm of Theodore H. Enfield offers, call their direct line at (305) 933-9592, toll free at 800-733-5299 or visit http://www.theodoreenfield.com/