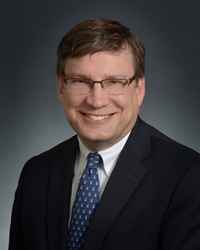 Columbus, Ohio (PRWEB) April 02, 2014
Attorney Bradley A. Smith has joined Steptoe & Johnson PLLC. Smith will focus his practice in the areas of Political Law and Government Relations from the firm's Columbus office. Smith is currently a law professor for Capital University, and is a visiting professor for the West Virginia University College of Law. He was appointed by President Clinton to serve as a commissioner of the Federal Election Commission from 2000-2005, and elected chairman for 2004.
In addition to his professorship, Smith maintains an active appellate legal practice in Columbus as well as Washington, D.C. He is best known for his knowledge of politics, particularly in the campaign finance, lobbying, and election law areas. The New York Times has described Smith as the "intellectual powerhouse" behind the changing campaign finance legal landscape, including the creation of Super PACs.
He is a frequent guest on television and radio discussing campaign finance. He has appeared on television networks including NBC, ABC, MSNBC, Fox News, C-Span, and others. His writings have been featured in some of the widest circulated newspapers in the U.S. including The Los Angeles Times, The New York Post, The Wall Street Journal, and The Washington Post. He has testified before Congressional committees on issues including lobbying, elections, and regulation of political action committees.
"Steptoe & Johnson is fortunate to have someone with Brad's legal and scholarly knowledge as part of our team," said Steptoe & Johnson CEO Susan Brewer. "His experience in campaign law is sure to benefit our clients throughout the country."
Smith is a founding member and chairman of the board for the Center for Competitive Politics. He also serves in leadership for the Federalist Society – Free Speech and Election Law Practice Group Executive Committee; the University of Minnesota Law School Institute for Politics; and the Harvard Journal of Law and Public Policy. Smith previously served on The American Bar Association Advisory Committee to the Standing Committee on Election Law.
"Brad is a go-to resource for clients seeking advice in campaign finance, election law, and the Foreign Corrupt Practices Act," said Steptoe & Johnson Business Department Chair Richard Lewis. "We are very pleased to have Brad join our firm. The experience he has gained in law and during his tenure at the FEC will be invaluable to our clients."
Smith is a regular blogger on campaign finance issues at http://www.campaignfreedom.org.
Smith answered the following questions for a video on campaign finance issues:
What are the significant risks that a political advocacy organization faces?
What types of groups need your assistance, but may not know that there is a need?
What is the value of seeking prospective compliance and training?
About Steptoe & Johnson
Steptoe & Johnson PLLC is a U.S. law firm with core strengths in energy, labor & employment, litigation and transactional law. In 2013, Steptoe & Johnson celebrated 100 years of helping clients reach their goals. Visit http://www.steptoe-johnson.com.
For more information, contact Betsy Spellman, Chief Marketing Officer, at (304) 933-8000 or by email: betsy.spellman@steptoe-johnson.com.
###