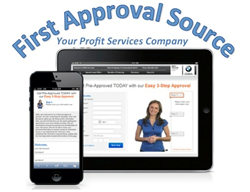 Bringing this leading edge technology to marine and RV dealers will help drive profits in a way never previously available.
Buford, GA (PRWEB) April 03, 2014
First Approval Source, the profit services company, today announced its partnership with DealerLegion, provider of CreditMiner Virtual Credit Consultant. This partnership provides dealers in the marine and RV industry the ability to offer credit that will closely resemble the final financing term that is ultimately structured by the bank. First Approval Source is the only profit services or financial services provider today to equip marine and RV dealers with this capability.
First Approval Source offers comprehensive profit services, which include end-to-end profit enhancement offerings from finance leads through F&I and backend product sales, to marine and RV dealers. In addition to the Virtual Credit Consultant which generates high quality finance leads as well as the ability to pre-qualify consumers, these services include loan sourcing and processing, complete documentation, extended service agreements, GAP insurance, and other services that are normally offered by in-house finance departments, along with complete red flag and regulatory compliance.
"First Approval Source is exciting and unique in their vision to focus beyond typical F&I offerings and deliver dynamic expansion of the dealer's sales and profit opportunities," says Don O'Neill, Vice President of Sales and Marketing for CreditMiner. "That DealerLegion can partner with First Approval Source in a way that provides an unprecedented and comprehensive financial services offering is truly extraordinary. Providing dealers with the CreditMiner Virtual Credit Consultant, which enables them to potentially double their finance leads and then have the customers resulting from those leads successfully serviced at virtually no added cost is a huge win for the dealers."
The CreditMiner Virtual Credit Consultant is a program that walks potential buyers through three simple steps of getting financed with instant pre-approval and no embarrassment involved. It utilizes the "soft-pull" method of credit scoring that will not show up on a consumer's credit report and does not require obtaining the consumers' social security number or date of birth. Add in the Credit Miner software, and dealers will have a complete platform that offers enhanced data and real-time credit scoring.
"Delivering the best customer experience has been the mission and our cornerstone of First Approval Source," commented Myril Shaw, COO of First Approval Source. "Providing dealers with more sales opportunities through high quality finance leads from the CreditMiner Virtual Credit Consultant vastly increases our ability to deliver the highest quality experience to our dealer customers. CreditMiner is the only partner who can offer real-time "soft pull" credit scores and we are absolutely delighted to have partnered with them to be the only provider of these leads to marine and RV dealers."
Virtual Credit Consultant is available immediately for marine and RV dealers through First Approval Source LLC and CreditMiner.
About DealerLegion, LLC
DealerLegion is a cutting edge marketing technology firm specializing in providing sales solutions nationwide. Leveraging our proprietary DMA CATAPULT® market mining software, we provide Dealers with a guaranteed sales target each and every month. Our Dealer Partners enjoy exclusive market engagement, data support tools that provide GM's with untapped insight into a sales desk operation, and keen insight on market/ consumer trends that focus on sales efficiency. This results in incremental growth for our partners, allowing them to climb not only in efficiency and market rank, but in profitability as well. You too, can have the Legion behind you! For more information, call 877.213.7042.
About First Approval Source, LLC:
First Approval Source is the premier profit services company for the marine and recreational vehicle industries. Serving the needs of dealers across the country, First Approval Source offers complete profit enhancement services, whether providing high quality finance leads, supplementing an existing finance department or completely providing this functionality for a dealership. It offers loan sourcing and processing, extended service agreements and GAP insurance, as well as trailer coverage along with the ability to generate high quality finance leads. Digital marketing consultancy is also available through First Approval Source. For more information, go to http://www.firstapprovalsource.com. They can be followed on Twitter @FirstApproval or on FaceBook at http://www.facebook.com/firstapprovalsource.
Media Contacts:
DealerLegion
Don O'Neill
877-213-7042
doneill(at)dealerlegion(dot)com
First Approval Source
Myril Shaw
678-641-8419
myril@firstapprovalsource.com