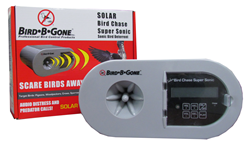 Irvine, California (PRWEB) April 02, 2014
Tip # 1: Treat Before Goslings Arrive
Once geese have their goslings, it is much harder to get them to leave the area. Naturally, mothers are very protective of their young; once they've found an area with food, water and reeds to nestle down in, they will do what is necessary to protect the area so their goslings can thrive. For this reason, it is very important to treat the area before the goslings arrive. Using an effective and humane goose deterrent product is the best way to ensure geese leave the area before they settle to and have their young.
Tip # 2: Remove the Food Source
Pest geese will destroy grassy areas with their messy droppings and by constantly grazing. Their favorite areas are those with plenty of grass and a nearby water source, like waterfront property, community ponds and lakes, golf courses, etc. By removing their source of food, geese have little to no reason to linger in the area. Using a liquid repellent, like Migrate Goose Repellent from Bird-B-Gone, will send geese searching for a new food source. Migrate Goose Repellent is a non-toxic, humane product that will not harm the geese or people. It's made of a grape extract that irritates birds' trigeminal nerve and mucous membranes through entry in the eyes, nose or mouth. This product can be used on shrubs, plants and other grassy areas where pest geese are a problem.
Tip # 3: Use Audible Deterrents to Eliminate Messy & Harmful Bird Droppings
Geese, like other pest birds are naturally fearful of predators. They constantly watch and listen for danger. To scare geese away from your food and flower gardens, use an audible goose deterrent that replicates distress and predator calls. Since birds hear on the same level as humans, an ultra-sonic device will not work; use the Solar Bird Chase Super Sonic to create a sense of danger in the area and watch the birds flee. The programmable device has a special setting for geese, which plays the sound of geese in distress as well as predator calls. It operates off of solar power and uses a light sensor to shut off at night to conserve energy.
To learn more visit http://www.birdbgone.com or call (800) 392-6915.
Bird-B-Gone is the world's largest manufacturer and distributor of professional bird control products, providing effective and humane solutions to a bird-free environment. Since 1992, Bird-B-Gone products have helped solve pest bird problems in commercial, industrial and residential settings across the globe. Bird-B-Gone proudly manufactures their products in the USA ensuring they meet the highest quality standards in the industry.
###